Czech Ambassador outlines plans for EU Presidency
By Mzia Kupunia
Tuesday, January 20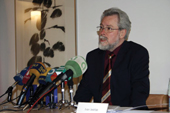 The Ambassador of the Czech Republic to Georgia, Ivan Jestrab, has outlined the plans of the Czech Republic for the next six months, during which the country will hold the rotating Presidency of the European Union. Speaking to journalists on January 16, he said that the slogan of the Republic's Presidency would be "Europe without barriers".
The Ambassador said that there are number of problems in Europe which his country will have to address. "The first priority will be to minimize the period the world economic crisis affects us. This will be possible through the joint effort of all countries." Among other priorities Jestrab quoted regulating the energy problem of Europe and codifying relations between the European Union and the rest of the world as particularly important.
The Ambassador spoke about his country's activities in Georgia. He said that the Czech Republic will be involved in the conflict resolution process, helping the International Commission studying the August events. He expressed the hope that the commission will reach an "objective conclusion" and that Europe will have an unbiased picture of the reasons for the Russian-Georgian conflict.
The Czech Ambassador noted that it is too early to talk about expanding the number of EU monitors deployed in Georgia and their mandate. "The existing number of monitors is entirely sufficient, the future will show if it is necessary to change their work specifications or numbers," Jestrab stated.
The Czech Republic will hold the rotating Presidency of the European Union until July 1, when Sweden will begin its own six-month term.