Russia places arms embargo on Georgia
By Temuri Kiguradze
Tuesday, January 20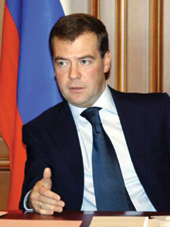 Russia will restrict any kind of cooperation with Georgia in the military sphere and will break off military-technical and military-economic relations with countries who sell Russian or Soviet-made arms to Georgia, according to a decree signed by Russian President Dmitry Medvedev on January 19.
The decree restricts the export of "weapons, military equipment and material connected with them and general production that may be used for military purposes." It will apply until December 1, 2011. It also orders the Government "to immediately propose special economic measures" against those countries or "foreign organizations and citizens," which provide weapons or equipment for military purposes to Georgia "which lead to the destabilizing accumulation of arms and military equipment" in that country.
The document, which has been posted on the Kremlin's official website, also bans Russian private or state-owned companies or private citizens from providing weapons to Georgia; it also bans the transit of military equipment designated for Georgia through the territory of Russia and providing consultancy to Georgia in the military sphere.
Earlier Medvedev expressed his indignation at the export of Soviet-made arms from Ukraine to Georgia during the August Russian-Georgian war. The Russian President said these arms had been used against Russian soldiers. The Ukrainian Parliament has conducted a special investigation into the incident and concluded that Ukraine sold Georgia arms at prices lower than those globally expected. However Kiev declares that these supplies didn't harm Ukraine's national security.
Georgian independent military expert Koba Liklikadze, speaking to
The Messenger
on Monday, said that he doubts that Medvedev's order will affect the defence potential of Georgia. "Banning the export of weapons from Russia is not very effective because Georgia hasn't had serious military cooperation with Russia for several years," he said.
Concerning the threat to place sanctions against foreign countries providing arms to Georgia, the expert cited the global economical crisis and said that this made it "less possible that any country will stop selling arms to Georgia when Georgia is ready to pay for them."
Liklikadze mentioned that Soviet-designed arms were exported to Georgia mainly from Ukraine, however their export was stopped after the "weapons scandal" in the Ukrainian Parliament. The other large exporter of weapons to Georgia is Israel, but Medvedev's order doesn't concern non-Soviet arms.
Military expert also mentioned that the decision to impose this embargo was taken after Moscow's unsuccessful attempt to make the international community join it. "No country supported Russia, so they announced the embargo unilaterally," noted Liklikadze.
Moscow began talking about an arms embargo against Georgia back in October.