Russia warns new US administration
By Temuri Kiguradze
Wednesday, January 21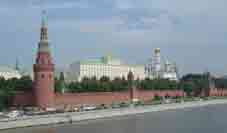 The Russian Foreign Ministry hopes that the new authorities in Washington will change their attitude toward Georgia and Ukraine and explain to these countries "the importance of respectful and civilized relations with their neighbours."
The Russian MFA's website published a statement on January 20 which said that Moscow hoped the new U.S. administration would open a "window of opportunity for relaunching" Russian-U.S. relations after "last year's excessive turbulences."
Deputy Foreign Minister Sergey Ryabkov announced that Moscow is "not against the U.S. entering into bilateral cooperation with any state, and Ukraine and Georgia are not exceptions in this regard," he said. However he underlined that the Kremlin is not "going to turn a blind eye to a situation, where these relations have a negative outcome for Russia's national security and harm our centuries-long friendships with neighbouring countries."
"This concern fully refers to the accelerated integration of Kiev and Tbilisi into NATO, which is an anti-Russian project by its essence," the Russian Deputy Foreign Minister continued. "Its consequences are well-known for everybody: in Ukraine we observe a new wave of destabilization, while the NATO ambitions of the Georgian leadership have turned into a bloody tragedy in South Ossetia."
Earlier on January 20 the Russian Foreign Ministry made an announcement concerning the embargo on arms to Georgia that Russian President Medvedev ordered on January 19. The order bans any kind of cooperation with Georgia in the military sphere and proposes sanctions against countries which export Russian or Soviet-made weapons to Georgia. "We will draw conclusions based on how other countries act. If they continue ignoring the facts and delivering offensive weapons to Georgia, we will draw conclusions in respect of our relations with these countries," Interfax news agency quoted Foreign Minister Lavrov as saying on Tuesday.
The Georgian Foreign Ministry has responded to Medvedev's order by stating that "this document as well as any other step taken by the Russian authorities against Georgia causes the USA certain surprise through its utter irrelevance to modern realities. Russia threatens to undertake sanctions against the international community for security cooperation with a sovereign democratic country, whereas Russia itself has been engaged for decades in providing weapons and military equipment to all those odious regimes posing threat to international security and stability in the world's various regions. It is still doing so. There is no need to remind the international community which country is manufacturing weapons which are mostly used by terrorist organizations worldwide."
The accusation that Russia provides weapons for "odious" regimes may be confirmed by a statement made by Sudan's Ministry of Defence in November 2008, in which Sudan acknowledged that Russia had sold 12 MIG-29 jet fighters to the country, despite the fact the UN banned the sale of arms to Sudan in 2005.