The gas war is over - ?
By Ernest Petrosyan
Wednesday, January 21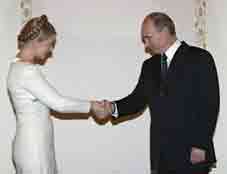 After almost two weeks of gas dispute between Russia and Ukraine the European freeze is about to melt. The neighbouring former Soviet republics, whose price dispute has terrified southeast Europe by leaving it without gas in the middle of winter, reached consensus on Sunday, with Russia saying it will quickly restore supplies to Ukraine, and via its territory to Europe.
On 18 January Prime Minister of Ukraine Yulia Tymoshenko met her Russian counterpart Vladimir Putin to oversee the signing of a gas supply and transit agreement in Moscow, after they had discussed this on the phone. At the meeting Putin declared that Moscow had agreed to give Ukraine a 20% discount on gas in 2009, 380 USD for 1,000 cubic metres, compared with the price paid by European consumers, on condition that Kiev holds the 2009 tariffs for Russian gas transit across Ukraine at last year's level: $1.7 per 1,000 cubic meters over 100 km. Putin and Tymoshenko ordered Russia's GAZPROM and Ukraine's NAFTOGAZ to prepare documents and on 19 January head of GAZPROM Aleksey Miller and head of NAFTOGAZ Oleg Dubina signed ten year 2009-2019 contracts for gas supply and transit via Ukraine.
"The Ukrainian side has assured us that gas supply will be restored very soon," Putin stated. NAFTOGAZ promised Europe that it would restore gas transit in 36 hours.
According to political analyst Mamuka Areshidze the gas dispute was nothing but a political ploy. The Russian Federation has frightened European community, reminding them that Russia has great influence on Europe. It also gave a lucid signal to the new US administration. The dispute was initially soluble but Russian authorities preferred that it be solved by Tymoshenko since she had changed her political position to one more favourable to Russia. The agreement will definitely increase her approval rating prior to the upcoming Ukraine Presidential elections.
The Messenger comments:
The Ukrainian side has obviously lost the dispute on gas price since it has agreed a price which is closer to that proposed by the Russian rather than the Ukrainian side. Russia's actions were not unexpected. It pursued several political and economic aims by cutting off the gas supply. The Ukrainian debt simply gave Russia a legalistic excuse to pursue its Imperialist policy.
Russia purposefully chose to enter into this dispute in winter to apply maximum pressure on both the Ukrainian and European population and authorities. The 'gas war' also sought to present Ukraine as a politically instable country and thereby prevent its integration into European organizations.
Russia has a wide variety of tools it is willing to direct against its neighbours. With Georgia Russia used force of arms, with Ukraine it chose gas.