Caring for livestock in Ortasheni
By Messenger Staff
Friday, February 13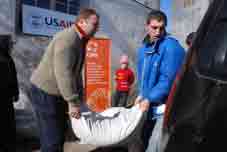 Kent Logsdon, Acting US Ambassador to Georgia, and representatives of the Georgian Government attended the distribution of aid in the village of Ortasheni, a conflict-affected area, on February 12.
"This assistance is very important in order to help farmers and their livelihoods overcome the recent crisis. We always try to address the most urgent needs of the conflict-affected population and will continue to do so in future," said Mr. Logsdon. "This kind of humanitarian assistance to support livestock farming in this region is a good step forward. Our primary goal is to help the local population overcome winter hardships and sustain themselves while they create a better future," added Lado Vardzelashvili, the Shida Kartli Governor.
"I have lived in this village all my life, and we have never experienced such difficulties with livestock as now. Due to the conflict we lost significant part of our livestock, and those which remain do not have enough feed for winter, as it was used in the summer. Thus, CARE's assistance is right to the point," said Marekhi Berikashvili from the village of Ortasheni, a school teacher and single mother of three.
The distribution process in Ortasheni was implemented by CARE International in the Caucasus through the Winter Livestock Maintenance Programme, 15,250 kg of animal feed for 190 cattle being allocated to residents of Ortasheni. The Winter Livestock Maintenance Programme is funded by the USAID, which has contributed USD 5.5 million to the project, sufficient to assist up to 16,000 beneficiaries (all households owning cattle) in conflict-affected areas.
The Winter Livestock Maintenance Programme is implemented in close cooperation with the Ministry of Agriculture and the following international partners: CARE International in the Caucasus, World Vision, Save the Children and International Orthodox Christian Charities (IOCC). The distribution of animal feed in conflict-affected areas will be completed in the first quarter of 2009 and will cover the Districts of Gori, Kareli, Kaspi and Khashuri.