Two new projects bring hope to Georgia
By Etuna Tsotniashvili
Friday, February 13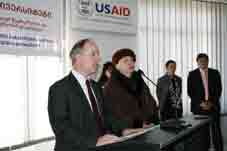 USAID's Small and Medium Enterprise (SME) Support Project and the Ministry of Education and Science of Georgia have discussed the progress made in the new higher professional education model developed in line with the best practices of U.S. Community Colleges On February 12.
The programme, which was launched at Gori State University, consists of new teaching programmes and textbooks meeting international requirements, the application of new teaching and learning methodologies, an Advisory Committee, introduced to fully capture the needs of local industries and a Student Career Centre established to assist students in developing their career strategy and job search skills.
The event was attended by a number of state officials. First Deputy Minister of Education and Science Anna Zhvania expressed her gratitude to the US embassy, USAID and all the organizations which have supported this project.
"This project is an innovation in our country and I want to welcome those who had the initial idea for this project and were sure it would be realized. I would like to thank the US Embassy in Georgia, USAID and all organizations that have participated in the project, and also the very innovator Rector of Gori State University who has implemented this project. They have really proved that qualitative education can be achieved in Georgia," Zhvania stated, adding that it was most pleasant for her to visit a place not because there is a problem but to meet people full of energy and innovation who do their jobs at a very high level.
Kent Logsdon, the US Charge d'Affairs to Georgia, stated in a speech that Gori State University is now one of the leaders in its field. "Gori State University is now a leader in the new higher professional education system that's being implemented throughout Georgia. I think we've learned over the years in the United States that universities and colleges have to be very aware of what the local labour market is, wherever they are. Universities have to change to make sure the students have careers and jobs and futures after they graduate. I believe the new Student Careers Centre will help all the students here find those jobs and internships," Logsdon stated.
He added that the most exciting thing about the programme is that this university is a model for other universities, such as Akhalkhalaki, Tsnori and Batumi, where this programme has also now been introduced, jointly with Gori University. "Congratulations again from the United States Government, the people of the United States are very happy to be able to support you," he concluded.
Zaza Tsotniashvili, Rector of Gori State University, welcomed the invited guests and assured them it would implement everything necessary to achieve its goal. "The goal of project is to prepare the young generation for the labour market in order to find them a good job. This programme is a three year course in construction administration, small business administration and hotel/hospitality administration, designed to prepare students for careers in their home region while strengthening small and medium-sized enterprise development by providing them with a qualified workforce," he told
The Messenger
.
Tsotniashvili said that at first the programme had 70 students but now this number has increased to about 200. The lecturers were discreetly trained before undertaking this programme.
In 2007 the SME Support Project awarded a grant of USD 95,000 to Community Colleges for International Development (CCID), and a USD 80,000 follow up grant in October 2008 to help Gori University introduce the three year higher professional education programme. The College is now fully operational with 198 students attending classes. The teaching programmes, developed with the SME Support Project's support, are adapted from international models and developed with the assistance of US and Canadian experts.
Business Incubator opened in Gori
Yesterday The Georgian Association of Women in Business, in partnership with USAID's SME Support Project, launched the Gori Business Incubator for IDP women. With their support the SME Support project provided a USD 90,000 grant to support the programme. The newly founded Business Incubator is expected to become a sustainable institution to incubate and provide hands on assistance for five micro enterprises, in the fields of catering, laundry and dry cleaning, tailoring, a beauty salon and an IT training facility. This will provide local women with practical knowledge on how to start and run a business.
Beka Toria, Deputy Minister for Refugees and Settlement, expressed his gratitude to the organizations and highlighted that the most important aspect of this project is that the key players are IDPs.
Pikria Maruashvili, 34, is one of the IDPs who has undertaken a business course. She says that after the war she was forced to start a new life and the Business Incubator greatly supported her rebirth. Pikria did not leave Gori even for a minute during the Russian-Georgian war, she still remembers the strong explosion in the centre of Gori where she and her mother were.
"I heard a very strong noise but I don't remember anything else… when I opened my eyes there were people crying, I looked around and saw 7-8 dead people including the Dutch cameraman who was killed at this moment," she told the paper.
Pikria herself was injured in the hand in the explosion and also had problems with her eyes. She much regrets that her journalistic career has been suspended due to these problems, as she is not allowed to sit in front of a computer or even use a mobile phone. "I have attended business courses and today I've been awarded certain certificates which are very important for me and all other participants in order to help us find a job in this region," Pikria says. She wishes to start any kind of business in Gori but has not decided what sort it will be as any business would need finance.
17 year-old Keti Gochashvili previously lived in Samachablo but is now in Gori, living with her family in the town. "I have learned to bake cakes, make Khachapuri and Hamburgers. I like it here very much," Keti says.
The incubator will continue to support the businesses so that they can survive on their own. As businesses grow and leave the space, new enterprises will replace them. During the first six months, 310 IDP women including 100 women from the village of Tserovani will be trained and acquire new professional skills which will increase their employment opportunities.