Former UN Ambassador presents his political team
By Mzia Kupunia
Tuesday, February 17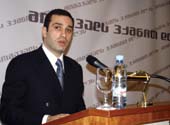 Georgia's former Ambassador to the UN Irakli Alasania, who resigned his post and moved into the opposition last December, presented his political team to the public at the Courtyard Marriot Hotel on Monday. Speaking at the presentation, attended by representatives of the Georgian opposition and NGOs, the diplomatic corps and public figures, Alasania said that the only way to resolve the economic and political problems that Georgia is facing is to hold early Presidential and Parliamentary elections. "We start an active campaign to change the Government, using all possible constitutional mechanisms, and call on society and the various political forces to unite," Alasania said.
He named the members of his political team, who are mainly former diplomats but also include lawyers and a doctor. Alasania said they were chosen for their "professional skills" and experience. In his speech Alasania outlined his team's view of Georgia's further political and economic development. He said their attitude is based on experience gained over years of work and "the will to create a democratic and just country, with strong national roots."
Alasania slammed the current Government for its unilateral style of governance, saying that "this is the main problem for Georgia and it should be solved urgently." "The tragic developments of November 7, 2007 and August 2008 have raised the question of the Georgian President's political responsibility," Alasania noted.
He also mentioned that a poor business environment and the infringement of private property rights were among the main problems of the country. Alasania said that in the current situation it is vital to develop a new economic view, aimed at achieving long term, steady economic growth. "The main principles of the new economic view should be the inviolability of private property, competition, free industry, and the development of the economy based on territorial-branch, the so-called clusters system," the former Ambassador noted. He said the new economic strategy should be implemented through "close cooperation between Governmental and business structures."
Alasania also touched upon the issue of Georgia's NATO integration. He said the neglect of democratic values and "the unwise steps made by the Government" have become the main obstacles in Georgia's path to NATO. Alasania said Georgian legislation needs to be "radically changed."
When speaking about the August war, Alasania noted that Georgia needs to rethink its place in international relations and world and regional security systems. "We need to make serious corrections in our foreign relations and create a new and effective national security mechanism," Alasania said. He stated that Georgia has been seen as a "non-reliable partner." "We should become a country of stability and cooperation," Alasania noted, adding that this is the only way to achieve the de-occupation of Georgia. He also talked about the necessity of starting dialogue with Russia.
Alasania talked about Georgia-US relations, saying that "Georgia's strategic cooperation with the US will be extensive and based on the political, regional and energy security interests of both countries." He said that the "cornerstones of Georgian foreign policy until the conflicts are regulated will be respecting Georgia's territorial integrity, maintaining the policy of not recognizing the occupied regions, the de-occupation of Tskhinvali and Abkhazia and creating international mechanisms to return the IDPs to their homes."
Alasania noted there is no quick, military and unilateral solution to Georgia's territorial conflicts. "Our strategy should be based on direct contact and dialogue, as well as restoring the trust of the Abkhazians and Ossetians."
Representatives of the Georgian opposition attending the presentation said they are ready to cooperate with the new political force. Salome Zourabishvili, from Georgia's Way, said she has positive feelings about Alasania. "He and his team bring a new energy into our political spectrum. We need this energy so much now. The fact that a new leader is appearing is a guarantee that unilateral governance will end in this country and Georgians will have the right of choice at last," Zourabishvili told
The Messenger
.
One of the leaders of the Republican Party, David Usupashvili, said he is also ready to cooperate with Alasania's team to "start a new epoch in Georgia and end the post-Soviet epoch in the country." "Today's presentation has shown me that Irakli Alasania is not only a new face in Georgian politics but is also bringing a new style into Georgian political life. His programme made me believe that Alasania can play a serious role in Georgia, but as he noted himself, this is not a business of only one person or one team. A consolidation of all forces is needed," Usupashvili said.
Political analyst Ramaz Sakvarelidze, who also attended the presentation, said Alasania might become a serious figure in Georgian politics. "First of all I judge the strength of a political force according to its supporters and if we look at the auditorium, this one has serious power. As for his speech, as expected, it was on the one hand quite balanced, and on the other it contained a list of very principled demands."
Sakvarelidze commented on speculation about Alasania's chances to become President of Georgia. "Is there anyone in Georgia who does not have the chance to become President? He has a chance, and a high rating. During the August events he won his war. In a situation where a person who lost his war is the opponent, of course sympathies lie with the winner," Sakvarelidze noted.
No comments were made about the possible alliance of current opposition parties with Alasania's team. Representatives of the opposition said "this is an issue which still needs to be discussed."
To conclude the meeting Alasania presented the members of his team, who included Giorgi Chikovani, a historian and lawyer who in 1993 was the First Deputy Mayor of Sokhumi; Levan Mikheladze, Georgia's former Ambassador to Switzerland, who resigned after the November 7 events in Tbilisi; Victor Dolidze, Georgia's Ambassador to the OSCE until very recently; Zurab Abashidze, a lawyer who worked with Constitutional Court of Georgia Chamber of Control and the Government of Abkhazia in Exile as well as being Deputy Minister of Justice and Shalva Shalgulidze, a practicing lawyer known for participating in several well-publicized cases.