Ombudsman demands Parliamentary investigation
By Sopo Datishvili
Tuesday, February 17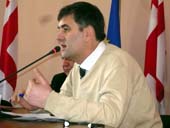 On February 16 Public Defender Sozar Subari convoked Chair of Parliament Davit Bakradze to arrange a Parliamentary Investigation Commission into an incident mentioned in the bi-annual Parliamentary report he gave on December 30. Subari stated on that date that he had received information about a secret meeting organised in the Interior Ministry at which high ranking officials planned the forcible dispersal of the mass protest actions outside Parliament on November 7, 2007.
The Ombudsman said that he had already appealed to Parliament to create a special investigation commission about this but the matter had not been put on the agenda. Now Subari is asking the Chair of Parliament to initiate Parliamentary Bureau discussion about creating an investigation commission.
The Public Defender thinks that such a commission will make it possible to clarify the November 2007 events. "We should find out what happened on November 4: the meeting should be investigated and those responsible for any misconduct should be properly punished. This can be done by a Parliamentary Investigation Commission," said Subari at a press conference yesterday.
Deputy Public Defender Giorgi Chkheidze says that the Chair of Parliament should seriously think about this issue and form a commission. "Sozar Subari appealed to Parliament in writing on January 12. According to the law, he can ask Parliament to investigate certain issues, and he exercised this right on this occasion. We were waiting for the opening of the spring session. This started last week but was devoted to the President's speech, so we hope that Parliament will now discuss appointing a commission," Chkheidze told
The Messenger
. He added that he does not yet know whether the Ombudsman's request is supported by the Parliamentary minority.
MP and representative of the majority party Goka Gabashvili has responded to the demand of the Public Defender by saying that it is just a political stunt and the 'secret meeting' is in fact gossip and lies. He added that it is an artificially-created issue, designed purely to provoke political disagreement. Gabashvili appraised this initiative as a way for the Ombudsman to involve himself in politics.
The Parliamentary opposition has expressed support for the Ombudsman's demand. Christian Democrat MP Levan Vephkhvadze says they are waiting for Bakradze to return from Lithuania so that discussions can begin. "We wanted to demand an investigation commission as soon as we heard Subari's report but we had to postpone this demand because there were problems with the agenda as New Year was coming. Now we are going to ask Parliament to investigate the November events and this secret meeting as soon as possible."
Sozar Subari first asked Parliament to create an investigation commission in his report on December 30. He said then that on November 4, 2007 he learnt about a secret meeting between high level officials of the Interior Ministry, which planned how to repress the street protests. The Public Defender added then that although he therefore had known what would happen on that day he could not then risk making his information public as it could have caused mass violence with many victims. He therefore chose to remain silent, but strengthened monitoring of the protests.
Although this issue seems very important and Sozar Subari has convoked Parliament to start investigating it several times already, the majority seems not to support the Ombudsman on this. Davit Bakradze is currently in Lithuania and his response to the demand is unknown as yet.