Georgia prepares for Geneva talks
By Temuri Kiguradze
Tuesday, February 17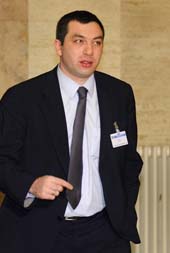 Georgia expects a "constructive dialogue" at the international talks in Geneva on February 17-18, states the Georgian Foreign Ministry.
The discussions in Geneva are the fourth round of talks on the situation in the conflict regions of Georgia. The Geneva talks are held with OSCE, EU and UN mediation and the participation of Georgia, Russia and the United States, as well as representatives of breakaway Abkhazia and South Ossetia.
On this occasion the Georgian delegation is being led by First Deputy Foreign Minister Giga Bokeria and also includes representatives of the Tbilisi-backed legal authorities of the breakaway regions. Speaking on February 16 at a press conference in Tbilisi, Deputy Foreign Minister Davit Jalaghania stated that Tbilisi hopes the participants will reach an agreement which will "investigate and prevent incidents occurring across the administrative borders [of Abkhazia and South Ossetia]." He also noted that he expects a "constructive position" from the representatives of the Russian side. The delegation had already left for Geneva yesterday.
Negotiators from the Abkhazian and South Ossetian de facto authorities are already in Geneva as well. Sokhumi has announced that Abkhazia will propose that Tbilisi "resume" the direct negotiations between central Georgian Government and de facto Abkhazian authority representatives which used to be held in the Gali region. These meetings were cancelled in 2006 after the collapse of negotiations between the Abkhazian separatists and Tbilisi. Abkhazian de facto Foreign Minister Sergey Shamba will propose that representatives of the UN and EU also attend these meetings.
The Geneva talks were part of the August 12 EU-mediated ceasefire agreement which halted the military confrontation between Georgia and Russia. The talks started on October 15 2008; however their first round was unsuccessful due to disagreements about the status of the delegations of Abkhazia and South Ossetia. The second round of talks, in November 2008, was conducted in the format of working groups comprising members of the delegations without specification of whom they represented. International organizations described this format as "meetings of experts."
The third round in December 2008 didn't produce any concrete decisions about the mechanism for providing security in the region. Hansjorg Haber, head of the EU Monitoring Mission in Georgia (EUMM), said on January 28 that the main subject of these talks had been "politicized" by the South Ossetian and Abkhaz sides. He said that the EU's approach had been to set up joint mechanisms for cooperation between law enforcement officers on both sides with no political connotations, but Sokhumi and Tskhinvali wanted to gain some kind of recognition from these the law enforcement cooperation mechanisms.
Georgian independent political expert Gia Khukhashvili has stated that the fourth round "is unlikely to bring any results." "Unfortunately these negotiations are just a formality. How can any kind of working mechanism be created in Geneva, when the sides haven't even agreed the format of the meeting yet?" asked Khukhashvili, speaking to
The Messenger
on February 16.