Russia won't attack again, says Bakradze
By Etuna Tsotniashvili
Monday, March 2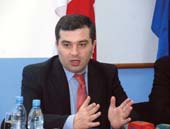 David Bakradze, Speaker of Georgian Parliament, has stated that the possibility of further Russian military aggression against Georgia is very low, as Russia does not have enough resources for a large scale invasion.
"Despite Russia's aggressive rhetoric, there is a great probability that the Russian military aggression against Georgia will not repeat, because it does not have the necessary resources to conduct a large scale invasion," Bakradze stated while meeting students and professors of the Caucasus School of Business on February 27.
Bakradze supported his statement by referring to the economic crisis in Russia and the international political situation. "Compared with last year the world oil price has dropped by more than USD 100, and as a result Russia will have a budget deficit instead of a surplus," Bakradze said, adding that if the present Russian crisis lasts 7-8 months the Russian economy will face default.
Speaking about Russia's political condition, Bakradze remarked that Russia expended huge political resources in August trying to defend its behaviour. Despite this however "Russia's status as a viable partner of the US and Europe has reduced, and that has damaged its political and economic condition," he said, adding that Russia does not have the resources for confrontation with the West. Consequently, he said, the large scale aggression of last summer does not seem likely to repeat.
According to Bakradze internal disturbances in Georgia profit Russia. "Today it is necessary to maintain stability. This does not mean that the Government should be saved, but that Georgia should be saved. By stability is meant a strong opposition which fights politically. The goal of political dispute should be the advancement of the country, not ensuring that a particular political party will win. Under the law, it is possible to hold actions, meetings and demonstrations, this is normal. But we must not allow a repeat of the events of 1991-1992," stated Bakradze.
Speaking about restoring the political relationship with Russia, the Parliament Speaker stated that Georgia is ready to begin dialogue with Russia as soon as it recognizes Georgia's sovereignty, territorial integrity and right of free election. "Until Russia stops thinking that Georgia should be under its influence, full relations will not be restored," he said.
The Parliament Speaker discussed Russia's actions from last February onwards which demonstrated that it was preparing for war, and added that because of the West's inadequate reaction Georgia could not avoid Russia's aggression. "On the basis of the information we had, we took corresponding steps. The West however misunderstood the nature of Russia's actions. Ultimately, we were not able to avoid Russia's aggression", Bakradze concluded.