NABUCCO discussed at the House of Free Opinion
By Mzia Kupunia
Monday, March 2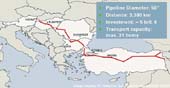 The House of Free Opinion hosted a discussion on Friday about the Caspian energy corridor and its importance for Georgia. Professor of the Georgian Institute of Public Affairs, political analyst Tornike Sharashenidze, presented his views on the prospects of the NABUCCO project and its importance for Georgia, as well as Europe.
At the beginning of his speech Sharashenidze highlighted the importance of oil and gas pipeline projects for Georgia, saying that the Baku-Tbilisi-Ceyhan pipeline saved Georgia from greater aggression from Russia in August, 2008. "If this pipeline had not been there, Georgia would have had to face more Russian aggression. The USA is interested in ensuring that this pipeline is always safe," Sharashenidze noted.
Mamuka Tsikhelashvili, the head of the Economic Department of the Georgian Ministry of Foreign Affairs, who also attended the discussion, also said that the Baku-Tbilisi-Ceyhan oil pipeline had saved Georgia. "The fact that Russia did not follow through its aggression fully and did not enter Tbilisi was greatly conditioned by this oil pipeline," Tsikhelashvili stated.
The analysts said that NABUCCO is not only an energy project but also political. "Russia did not like the Baku-Tbilisi-Ceyhan project, but it dislikes NABUCCO even more, "Sharashenidze said, adding that there is a chance that the project will bypass Georgia if Iran joins it. However, he said, whether Georgia is part of NABUCCO or not the project will still be positive for the country. "If Iran can transport energy to Europe independently, this will lessen Russian influence on Europe," Sharashenidze noted. "This project will create a new landscape of power distribution and weaken Russia's influence," he added. Mamuka Tsikhelashvili agreed. "It does not really matter if Iran is involved in the project or not, it will still create a basis for stability in the region, as well as for energy diversification," he noted.
Lasha Tughushi, Editor of the Rezonansi newspaper, outlined the possible threats NABUCCO might face. He said Russia, which is not favoured by this project, might try to prevent its completion. Tughushi also said that Turkey was a threat. "Turkey is a serious player. It is annoyed because it is not able to achieve its goal of joining the EU. Turkey has said it might buy gas and sell it, i.e. not be merely a "transit" country. Tughushi said Georgia should try to "deepen democratic processes" in order to become a stable and reliable country for its partners.
"Europe has seen that its energy security is in danger and has now become more active in this respect," Tsikhelashvili noted. He said some steps have already been taken to implement the NABUCCO project. "The European Commission has allocated EUR 250 millions for the project and a special international board on NABUCCO issues has been set up," he said.