UN to secure donor support for Georgia's post-conflict recovery
Monday, March 2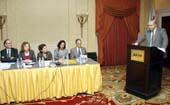 On February 27 The United Nations Agencies in Georgia held a meeting to provide donors with a report on UN emergency programmes in the post-August 2008 period and secure support for longer-term recovery activities within the framework of the Joint Needs Assessment (JNA). The donor meeting also heard from the Deputy Finance Minister Dimitri Gvindadze about the government's use of donor funds since the October 2008 Donor Conference in Brussels.
A Concept Paper that outlines the planned longer-term recovery activities of UN Agencies was presented at the donor meeting. The Concept Paper is based on a Joint Needs Assessment undertaken at the request of the Government of Georgia in September 2008 by the World Bank, the EC and the UN, and marks an important opportunity to focus international attention on major post-conflict reconstruction and recovery issues - with the first priorities being return, relocation and resettlement; education; employment; agriculture; health; and social protection.
"In light of the very difficult times that the country and its people have been through," said UN Resident and Humanitarian Coordinator Robert Watkins. "a more effective response by the development sector, and in particular the UN, will greatly benefit the people. We would like to thank donors for the prompt assistance for the emergency phase and welcome today's meeting, which demonstrates the willingness of the international community to support longer-term recovery efforts as well."
Since the Georgia Humanitarian Flash Appeal was issued in August and updated in September 2008, the UN system has worked closely with the donors and the NGO community on virtually all facets of the relief effort. The unprecedented international support was provided to solve a humanitarian crisis in Georgia and now the work is moving towards post-conflict reconstruction and recovery.
"The crisis in August showed that the UN system has a very responsive infrastructure for humanitarian assistance," said Robert Watkins at the donor meeting. "The quick and generous response of the donors to the Appeal has been very encouraging and is, in a sense, a vote of confidence in the UN's capacity to respond quickly to the humanitarian crisis. In the same spirit we welcome donor support for the country's post-conflict recovery."
The event brought together approximately 60 representatives of donor countries and international organizations.