Don't cross into Israel illegally, Foreign Ministry tells Georgians
By Etuna Tsotniashvili
Tuesday, March 17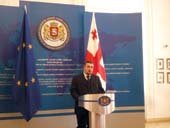 At a weekly briefing of the Georgian Foreign Ministry Sergi Kapanadze, the head of the International Organizations Department of the Foreign Ministry, appealed to Georgian citizens to avoid crossing the Egypt-Israel border illegally.
"I want to make special statement for those Georgians who are in Egypt and try to cross the Egypt-Israel border illegally. As you know, as a result of the current strained situation in Gaza border crossing has become more difficult, and there are further complications when this happens illegally. There have been arrests of Georgian citizens, so we ask them to avoid getting involved in border crossing," Kapanadze stated on March 16.
According to Kapanadze the Georgian Foreign Ministry is now actively involved in addressing the illegal border crossing issue. It has advised Georgian citizens to not stay in Egypt and return to Georgia, although the Ministry's resources for helping them return are limited. So the Ministry is calling on Georgian citizens to avoid illegal activities and not get themselves arrested.
The statement is a response to an incident last week in which 14 Georgian citizens were arrested trying to cross into Israel illegally. As a result of the Georgian Foreign Ministry's efforts an Egyptian court made decision to release and then deport the Georgians concerned.
The Ministry of Foreign Affairs has also spoken about recent developments in the Gali District. Kapanadze has made a statement concerning the growth of criminal activities, violation of human rights and oppression of ethnic Georgians in the separatist region.
"We are very concerned that Georgian residents on the Abkhaz side of the administrative border are being put under pressure. This is the key issue we are discussing with our American and European partners and international organizations. The situation is very concerning indeed, however, we hope that it will be improved thanks to international pressure and activity," Kapanadze said.
Kapanadze also touched on the restoration of a mutual visa regime between Georgia and Russia. He said that several kinds of visas are available, such as study, humanitarian visas, which will be granted due to the death of relatives and family members or the need for urgent medical treatment, and visitors' visas which will be granted if Russian citizens send invitations to Georgians.
Kapandze confirmed that Foreign Minister Grigol Vashadze is visiting Belgium and Luxembourg and will hold meetings with Javier Solana, the EU foreign policy chief, EU External Relations Commissioner Benita Ferrero-Waldner and his British and Spanish counterparts. A meeting of the Friends of Georgia has been held in Luxemburg where NATO integration issues, EU-Georgian relations and the facilitating of visa regime, European Neighbourhood policy issues and the current conditions in occupied territories were discussed.
The visit will conclude with a conference in Brussels concerning Georgia's relations with Russia and the EU.
The Georgian Foreign Minister met his Japanese counterpart last week and discussed several important issues with him, including economic issues. The Japanese Foreign Minister once again confirmed his country's support for Georgia's territorial integrity. Yesterday Vashadze also met David Miliband, the British Foreign Secretary.