Head of Abkhazian Supreme Council resigns
By Mzia Kupunia
Tuesday, March 17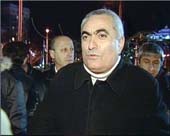 The Chairman of the Tbilisi-backed Supreme Council of the Autonomous Republic of Abkhazia in Exile, Temur Mzhavia, resigned on Monday. He cited the Georgian central Government's ignoring of the council as the reason for his resignation.
Speaking at the Session of the Supreme Council of the de jure Abkhazian Government on March 16, Mzhavia said that the Georgian Government has had "no contact" with the Council. "I think that as the Kremlin has recognized the independence of Abkhazia and taken advantage of the population there, the Georgian Government should have more contact with the IDPs and the Supreme Council and use this resource more actively," Mzhavia stated. He said he and his colleagues had asked representatives of the Georgian Government to meet them and listen to them but these contacts had only been "very occasional." "For me as the Chairman of the Council this is unacceptable," Mzhavia stated, adding that "I hope the central Government will establish these contacts with the next Chairman."
Another member of the Supreme Council, Ada Marshania, also slammed the Government. She said that ignoring and boycotting the Abkhazian Supreme Council is a "political and judicial crime."
Mzhavia denied rumours that he has joined the political team of former Parliament Speaker Nino Burjanadze. "Nino Burjanadze is a high ranking politician. I think that she should not remain in the shadow, however neither now nor in the future am I going to join her team," Mzhavia noted. He said he has his own plans. "I am going to continue my activities through my own party, Georgia and Diaspora," he said.
Representatives of the Parliamentary majority have denied Mzhavia's allegations. They say that members of the Council were always present at sessions of the Temporary Commission on Territorial Integrity Issues. The Chairman of the Committee, ruling National Movement MP Shota Malashkhia, said the issues raised by the Council members had been "more or less" resolved. Earlier on Monday Mzhavia had given the expiration of his term of office as the reason for his resignation, but he had also told journalists that he had some "specific motives" for making the decision as well.
Mzhavia, who chaired the Supreme Council for 5 years, has signed a decree appointing Deputy Chairman Napoleon Meskhia as Acting Chairman of the Supreme Council. The Council is due to elect a new Chairman in ten days time. The Georgian media has reported that another of Mzhavia's Deputy Chairmen, Gia Gvazava, might be elected the new Chairman but this has not been officially confirmed so far.