CARE helps linguistic minorities learn Georgian
By Mariam Betlemidze
Friday, March 27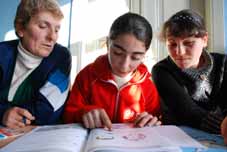 Marine's voice blends with the sing-song tones of her classmates chanting their teacher's words "me, shen, isini" (we, you, they) in unison. This morning in the highland village of Tskhruti students are continuing their Georgian language lessons, and Marine pays close attention, eager to expand her vocabulary.
34-year-old Marine appreciates the value of her new language skills, as they make doing business with visiting Georgian-speaking traders and buyers much easier. She also knows they will help her achieve a longer-term goal – to become a lawyer and provide decent advocacy for her community and protect the rights of the Armenian-speaking minority.
Marine is a member of the Armenian minority and her village is set in one of the most picturesque, and most isolated, parts of Samtkhe-Javakheti. She walks to the class each day with her younger brother Vardan through cheek-by-jowl old-style houses scattered beautifully across a frozen land.
Such enthusiasm for learning is new to the village – not due to lack of interest, but lack of opportunity. As most local people do not speak the national language Georgian – the language of instruction in Government, universities, markets and other types of organizations – the local minority population's rates of integration in civil society and representation in Government bodies are among the lowest in the country.
"I very much wanted to attend these classes regularly," Marine says when her lesson ends. She enrolled when the classes began at the end of December and is one of 15 students currently attending the Georgian lessons, most of these being local rural association Anluch's present or future members. This association is supported through a CARE International in the Caucasus project, which has also funded the Georgian classes for association members.
"The overall goal which the proposed project aims to achieve is the strengthening of human rights and democratic processes in rural areas of Georgia. The project objective is to build the capacity of rural associations through improving management structures and staff skills as it is considered that the most appropriate form of presenting rural public needs to local governments is through rural associations. The project supports empowering these associations to create effective linkages with local government officials and civil society so that they can help address the needs of local population," says Salome Odisharia, Programme Development Manager of CARE International in the Caucasus.
The project "Strengthening the Role of Rural Associations in the Democratic Processes of Georgia" (STAGE) is financed by the Austrian Development Cooperation and Cooperation with Eastern Europe (ADC). Learning materials, including text books and Georgian-Armenian dictionaries, have been distributed among the students. Developed by local people, their content is culturally relevant, and incorporates drawings of everyday scenes and activities as well as stories about village life.
Some of Anluch's members also learn how to do bookkeeping according to modern standards, which helps them run new projects and their own small businesses. Financial management skills such as bookkeeping and mathematics have been particularly helpful for Marine. "I used to have difficulty calculating the prices of the goods I was selling at the market with my family. I didn't know how to keep proper records of sold or purchased items," she explains. "Now that I can speak Georgian better and understand mathematics, we can make a good business. And when I'm a lawyer, I'll stand up for my villagers and help them exercise their rights," she says with determination.
"I'd like to go to the capital of Georgia to obtain a higher qualification and maybe live outside my village for a short time. I understand that to do all of this I need to learn well at my classes" – Marine's face is serious, but then she smiles. "My new classes are helping me get closer to my dream."