Bakradze comments at US position
By Etuna Tsotniashvili
Friday, March 27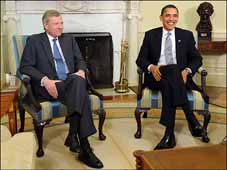 Chairman of the Georgian Parliament Davit Bakradze has responded to US President Barack Obama's statement that NATO's doors are open to any country which meets the criteria for membership and is aspiring to join the alliance.
Bakradze, who is visiting the US, said that Georgia welcomes the statement. "This is a position and policy we really welcome, since through this policy and position the United States continues to support Georgia's aspiration for NATO membership. I am glad that President Obama has made a decision to publicly voice his firm position on this issue," Bakradze added.
When meeting North Atlantic Treaty Organization Secretary-General Jaap de Hoop Scheffer on March 25, Obama talked about the importance of improved relations with Russia but highlighted that these will not be developed at the expense of NATO expansion. At the 45 minute meeting Obama also stressed how NATO deals with the terrorism threat and his desire to "reset" relations with Russia. "My administration is seeking a reset of the relationship with Russia, but in a way that's consistent with NATO membership and consistent with the need to send a clear signal throughout Europe that we are going to continue to abide by the central belief that countries who seek and aspire to join NATO should be able to join NATO," Obama said.
In his speech the NATO Secretary-General said that "We have many things on which we disagree, but NATO needs Russia and Russia needs NATO, so let's work on the things we agree on, and let's not hide our disagreements. Let us also realize that this relationship can, and in my opinion should, be strengthened. As President Obama said a moment ago, NATO's door will stay open for new members if they perform – if they fulfil the criteria," Scheffer said. However neither the President nor the NATO Secretary-General specified which particular countries' applications were implied by their statements, and they mentioned neither Ukraine nor Georgia.
Relations between Russia and NATO were frosty for some time last year due to Moscow's anger over plans by Ukraine and Georgia to join the alliance. They were further strained last summer when Russia occupied Georgian territories and sent troops into South Ossetia and Abkhazia.
The next NATO summit on April 3 and 4 will be the last for Jaap de Hoop Scheffer. His term as Secretary-General runs out in July.