Day centre social therapy
By Messenger Staff
Tuesday, April 7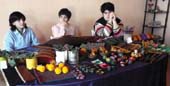 The day centre for adults from 18 to 50 is in the Avlabari district of Tbilisi. It regularly serves more than 40 people (currently 54) of different ages and interests who are involved in different activities and therapy such as painting, music, drama, reading literature and fiction and special games. There are several workshops at which beneficiaries learn printing, woodcarving, embroidery etc and housekeeping is also studied.
Psychologists, psychiatrists and different therapists are involved in the daily care of the handicapped people who attend the centre, trying to readjust them to ordinary everyday life.
This is a charitable organization and is permanently under serious financial pressure. Any kind of assistance from any volunteer will be much appreciated. Currently the charity organization from Germany Diakonishe Werk assists the centre.
Address
: 8, Ubilava brothers St., 0144 Tbilisi, Georgia
Tel/fax
: (995 32) 775485
Tel
: (995 32) 776307
email
: info@apnsc.ge
www.apnsc.ge