Tbilisi hails Vashadze-Clinton meeting
By Temuri Kiguradze
Thursday, April 16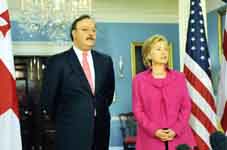 "The USA remains a main strategic partner of Georgia," stated Georgian Foreign Affairs Minister Grigol Vashadze after his meeting with US Secretary of State Hillary Clinton on April 14 in Washington.
"The sides discussed the prospects for the reinforcement of cooperation between the two countries and ways to convert the Strategic Partnership Charter into an action plan. Discussions also focused on the situation in Georgia's occupied territories, the progress of the Geneva talks, the extension of the UN and OSCE missions in Georgia, interaction with the international organizations, relations with neighbouring countries, integration into NATO and the processes currently taking place in Georgia. The Georgian side reaffirmed its position on the internationalization of security arrangements and the introduction of an international police force on the occupied territories," stated the Georgian Foreign Ministry.
"We welcome the Foreign Minister of Georgia here at a very challenging time in the country's young democratic history," stated Hillary Clinton just before the meeting. The USA will "underscore our strong support for Georgian independence and democracy, and will look for ways to deepen and broaden our partnership," she added on April 15.
The day before the Clinton-Vashadze meeting Georgian Minister of Finance Kakha Baindurashvili had stated that the USA would donate USD 242 million to Georgia as financial aid. "This aid is a part of the USD 1 billion which the US administration is going to provide to Georgia. It will be used for the development of infrastructure, the energy sector, municipal government, agriculture and improving the social conditions of IDPs," said Baindurashvili on April 14, speaking to local journalists in Tbilisi.
Chair of the Georgian Parliament David Bakradze stated that "new dynamics" will now be given to Georgian-American relations. "It is pleasing that the United States will remain our main strategic ally for this period of time. It is also very pleasant that several events moving us in this direction have happened simultaneously, including the meeting with the Secretary of State and the provision of USD 240 million [to Georgia]. We expect several more of these kind of positive events to take place in the near future," Bakradze added.
Georgian analysts have also positively evaluated the meeting in Washington. Soso Tsintsadze considers that the Clinton-Vashadze meeting was designed to attract Russia's attention. "Through the meeting of the US Secretary of State and the head of the Georgian Foreign Ministry, the US warned Russia that despite of the warm Medvedev-Obama meeting and the new perspectives on relations between Moscow and Washington the USA is not going to give Georgia up. This support is very important for Tbilisi now," said Tsintsadze.