Nation joins in prayers for forgiveness
By Sopo Datishvili
Wednesday, April 29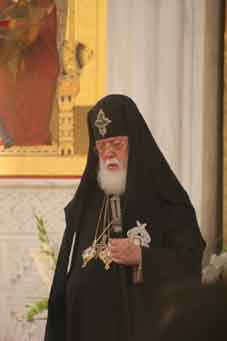 In every Georgian Orthodox Church in the country prayers for forgiveness were held on April 28 at 6 p.m. This national prayer service was the initiative of Catholicos-Patriarch of All Georgia, Ilia II, who had announced it during his sermon last Sunday. "On Tuesday at 6 p.m everyone will forgive each other for their sins. Every church in every eparchy will grant forgiveness. And at that very special moment, I want to ask the Government and opposition to go to church for repentance. The kind heart will compromise. I hope that with the help of God, Georgia will survive," the Patriarch had said on Sunday.
The Patriarch read the prayers for forgiveness in Sameba Cathedral in the presence of members of the Government and Parliamentary minority. Radical opposition leaders and their supporters went to Kashveti church, which is on Rustaveli Avenue almost directly opposite Parliament.
Member of the Movement for United Georgia Eka Beselia was among the opposition leaders who attended the service in Kashveti. She said that the Patriarch didn't tell people to go to the cathedral alone. As he gave everyone freedom of choice in where they should go, the opposition decided to ask for forgiveness in Kashveti with their supporters.
"Not going to the cathedral doesn't mean we aren't going to church at all. Unfortunately this sort of thing often becomes the subject of manipulation by different television stations. We will say the prayers of forgiveness in Kashveti. In my opinion forgiveness is very timely now. Saint Paul says "forgive to be forgiven," and I think that nothing should be done without a sense of forgiveness, and that the highest officers of state in particular should conduct themselves this way," Beselia stated.
The opposition changed its plans due to the Patriarch's request to go to church at 6 p.m. They arranged only one protest meeting instead of holding them in several places as they usually do. The opposition leaders said that April 28 would be calm as they also dedicated the day to forgiveness.
Not only the opposition but the general public also attended the prayer services in different churches. "If we don't listen to the Patriarch now, then asking God to help us will be too late. If our politicians have any awareness at all they should listen to the Patriarch and abide by his words. If they don't do this, something even worse than April 9 and November 7 will happen," said passerby Irina Kukuladze.