PACE: Russia will have to rescind its recognition of Abkhazia and South Ossetia
By Temuri Kiguradze
Wednesday, April 29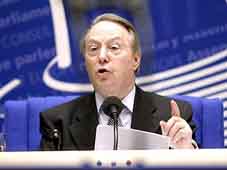 Abkhazia and South Ossetia are parts of Georgia and the recognition of these regions by Russia doesn't change anything, considers Luis Maria de Puig, head of the Parliamentary Assembly of the Council of Europe (PACE).
The Spring session of the Assembly began on April 27, with the situation in the conflict zones and Russian-Georgian relations due to be discussed. "Russia is the only country which recognizes the independence of Abkhazia and South Ossetia. These territories are part of Georgia, that's the position of Georgia and Russia's recognition doesn't change anything," said de Puig as quoted by the Russian Regnum news agency on April 27. The head of PACE added that Russia "will have to rescind this decision" [on recognition].
The PACE delegations of Georgia and Russia will also debate the situation in South Ossetia on April 29. Speaking in Strasbourg, Georgian delegates expressed their satisfaction with the draft resolution proposed. Deputy Head of the Georgian PACE delegation Giorgi Gabashvili stated that the draft resolution "clearly says that ethnic cleansing took place on the occupied territories." Gabashvili noted that he "hopes that this paragraph will be kept" in the final version of the resolution. However the Russian PACE representation has protested against the draft, stating that they "will refuse to adopt it [the resolution]" if no changes are made.
The Russian-Georgian conflict was main topic of discussion at two previous PACE assemblies. In both October 2008 and January 2009 PACE demanded that Russia reverse its decision to recognize Georgian breakaway regions Abkhazia and South Ossetia as 'independent states', but these appeals produced no reaction from the Kremlin.
Georgia remains "an area of outstanding disagreement that requires careful management" in U.S.-Russia relations, William J. Burns, the U.S. Under-Secretary of State for Political Affairs, said on April 27. "Most of the world disagrees with Russia's decision to recognize the territories of South Ossetia and Abkhazia – a decision which raised obvious concern over Russia's respect for the territorial integrity of its neighbours," he said. "In London [at the recent G20 summit], our Presidents reaffirmed the necessity of the implementation of the August 12 and September 8 agreements, as well as the discussions in Geneva on bringing stability to the region, which we believe are essential to rebuilding confidence."
Russia recognized Abkhazia and South Ossetia after the August 2008 conflict despite much criticism for doing so from the international community, including the USA, EU and OSCE. The Georgian Government subsequently declared Abkhazia and South Ossetia to be 'occupied territories.' Later in 2008 Moscow announced it would establish several military bases on the breakaway territories and raise its military contingent there to 7,000 soldiers across both regions. This decision was part of the so-called "agreement on cooperation" signed between Russia and the two separatist regions.