Saakashvili speaks at EPP Congress
By Mzia Kupunia
Friday, May 1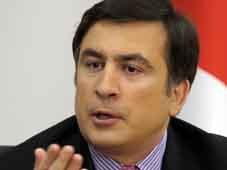 Georgian President Mikheil Saakashvili delivered a speech at the European People's Party Congress in Warsaw on April 30, an event attended by senior European figures including President of the European Commission Jose Manuel Barroso, and EU Heads of State and Government including Chancellor of Germany Angela Merkel, Prime Minister of Italy Silvio Berlusconi and Chairman of the EPP-ED Group in the European Parliament Joseph Daul. Saakashvili's United National Movement is an Observer Member of the European People's Party.
In his speech, on the second day of the Congress, Saakashvili talked about the unity of Europe and stressed that Europe had shown support for Georgia during the August 2008 war. The Georgian President once more called on European society to put pressure on Russia.
President Saakashvili said Georgia shares European values and noted that the unity of Europe is the guarantee of peace in the world. He mentioned the threat which still exists from Russia as Russia has occupied part of the Georgia's territory.
Russia bombed Georgia with 200 planes over several days, but our country continues developing, despite the fact that 20 percent of Georgian territory remains occupied and despite the fact that 50,000 people have been displaced from South Ossetia and Abkhazia," the President said. "Provocations are still taking place and there still is a threat [for Georgia]. We have Russian tanks forty kilometres from our capital, and we have demonstrations taking place. We have said that we will handle these demonstrations as if the Russian threat does not exist and we will handle the situation with Russia as if the demonstrations do not exist. That's how democracies act, that's how they develop societies" Saakashvili said.
According to Rustavi 2 TV the Chairman of International Affairs of Russian Duma, Konstantin Kosachev, was also attending the congress, although his party, United Russia, is neither a Full nor Observer Member of the European People's Party. Rustavi 2 reported Kosachev as saying that although European leaders usually criticize Russia in its relations with Georgia, this is a "incorrect" point of view. He also commented on the demonstrations taking place in Georgia's capital by saying that Russia is not interested in Georgia's internal politics.
When the EPP Congress concludes Saakashvili will meet the President of Poland Lech Kachinsky and the Polish Prime Minister Donald Tusk.