Russia is always right, says Moscow's envoy to NATO
By Temuri Kiguradze
Monday, May 11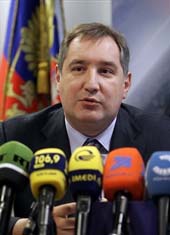 The long history of Russian-Georgian relations can help both countries resolve the problems created after the August conflict, considers Dmitry Rogozin, the Russian envoy to NATO.
Speaking via the video bridge provided by Russian news agency
RIA-Novosti's
Tbilisi office, the Russian diplomat spoke about the problems in the relations between the two countries. He stated that it is "silly" to accuse Russia of creating the problems Georgia faces now. Rogozin said he couldn't quote even one case in which Russia had acted wrongly towards Georgia or any other country in the world. "Russia is always right," the Russian envoy to NATO said in answer to a question from
The Messenger
on May 8.
On May 5 the Georgian Government declared that a mutiny had broken out at one of Georgia's military bases and said that Russian special services may have been involved. "We expected these kind of accusations," stated Rogozin. "It's silly - you can't blame Russia for everything that is happening in your country," he added.
Dmitry Rogozin considers that despite the August war and Russia's recognition of the independence of the two Georgian separatist regions of Abkhazia and South Ossetia Moscow and Tbilisi will still be able to find a common language in the future "because of the long history of cooperation between our peoples." "I will not give you the names now, but you know that many people of Georgian origin have played a very important role in Russian history and it was Russia that saved Georgia from disappearing in the late eighteenth century," said the diplomat, adding however that it is unlikely that relations between the two countries can be normalized while the current regimes in both Georgia and Russia are in power. "There are so many problems between Georgia and Russia that they will have to be resolved by the future generations," said Rogozin.
The Russian envoy also commented on the Cooperative Longbow/Cooperative Lancer NATO exercises which recently began in Georgia. He described them as a "non-partner step" by NATO and applauded several countries' refusal to participate in them. "You can't conduct exercises in a region where war has recently taken place, no one acts like that," Rogozin said, adding that these exercises "will not serve" to improve the situation in Georgia. Dmitry Rogozin is famous for his controversial comments about Georgia, which often cause waves of protest in Tbilisi. "Rogozin is not a person whose intellectual level deserves to be commented on by Georgian officials" said Georgian Foreign Minister Grigol Vashadze, as quoted by Russian
Interfax
news agency. Georgian state officials continue to underline the negative role of the Kremlin in the political processes in the country. "The aim of Russia is the full occupation of Georgia through the instigation of internal disorder and a military coup," Georgian State Minister on Euro-Atlantic Integration Giorgi Baramidze told journalists in Tbilisi.