Russia gets Abkhazian oil
By Temuri Kiguradze
Thursday, May 28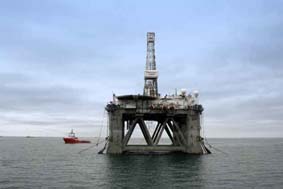 Russian state owned company Rosneft gained the right to explore and exploit the oil deposits in the Georgian breakaway region of Abkhazia on May 26. Head of Rosneft Sergey Bogdanchikov and de facto Abkhazian Economy Minister Kristina Ozgan have signed a 5 year cooperation agreement concerning this.
The main exploration area will be the Abkhazian Black Sea coast, which is controlled by the separatist forces. A special statement published on the Rosneft official webpage says that the Abkhazian and Russian sides will "cooperate in such fields as geological research, the development of the oil and gas deposits and the extraction and sale of hydrocarbons." Rosneft also plans to develop the necessary infrastructure to undertake this work and protect the ecology of the region.
Oil and gas were found in Abkhazia back in Soviet times. Abkhazia was one of the most popular Soviet sea resorts in this period and for this reason no oil extraction took place. In 1996 the authorities of the separatist territory tried to use the oil deposits to attract investors, however because of the undefined status of Abkhazia no international organization replied to this proposal. After the August 2008 conflict Russia recognized the independence of both Georgian breakaway regions, Abkhazia and South Ossetia, and the fact that only Nicaragua has followed suit and this recognition has been condemned by the international community has not prevented a Moscow-backed company from entering the region to conduct oil exploration.
The oil resources of Abkhazia are estimated at anything from 200 to 500 million tonnes. Rosneft has oil resources of about 5 billion tonnes.
"We have not come here for easy benefits," stated Bogdanchikov on May 26, "all our projects have a long-term perspective." He added that Rosneft will create two companies in Abkhazia – one to research and develop hydrocarbons in the Black Sea and the other to build and operate petrol stations on the territory of the breakaway region.
"Signing this agreement with Abkhazia is a continuation of the Russian occupation, so it's no surprise that Russia wants to include Abkhazia in its economic sphere," says Lado Papava, a Georgian economic analyst, who was Minister of Economy during Shevardnazde's rule. "This agreement doesn't mean that Russia will start exploiting the oil deposits in Abkhazia tomorrow, the most important thing for Russia was to show that it has the right to do that," stated Papava, talking to
The Messenger
on Wednesday. Current Georgian Economy Minister Lasha Zhvania has stated that Rosneft is performing "illegal" operations in Abkhazia. "Any commercial activity of any organization in Abkhazia undertaken without the permission of the central Georgian Government is illegal. Russia is the occupying country so it does whatever it wants there," stated Zhvania, speaking at a press conference in Tbilisi on May 27.
Rosneft is one of the largest Russian energy companies. More than 75 percent of its shares are state owned. It operates throughout Russia and also runs several projects in Kazakhstan, Turkmenistan and Algeria.