"Political crisis" is slowing down the Georgian economy, PM says
By Mzia Kupunia
Tuesday, June 2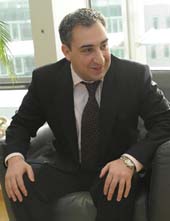 The Georgian economy is expected to contract by 1.5 percent by the end of 2009, Prime Minister of Georgia Nika Gilauri told journalists on June 1. The PM said the political crisis in the country had created a lot of problems in the first half of the year. He said the investment, banking and import sectors have suffered losses, but the Government will receive about GEL 250 million in bank loans in order to fund social and rehabilitation projects.
Gilauri said that the projected economic slowdown had been caused by "street politics." According to the Government the first half of the year has been "almost totally lost" due to the crisis in political relations in the country. "The current situation has affected the trust of investors as well as local businessmen towards Georgia. Export and import volumes and trade turnover have decreased, while some investors have delayed their investments," the Georgian Government's statement notes.
"Last year we expected Georgian economic growth to be about 1 percent in 2009. Last year it was 2.1 percent, and as a result of our reforms the world economic crisis impacted less on Georgia than other countries," the statement reads, explaining that the previous growth projection was based on the assumption that "due to the world economic crisis and local factors there would be a significant decrease in the economy in the first quarter of the year and some in the second quarter, but due to fiscal stimulation and the reforms carried out in recent years we could then have activated more investments and as a result of growth in third and fourth quarters would end the year with a small but still a positive growth indicator."
According to Georgian officials, with the help of donor organizations and the "unprecedented" help of Western partners Georgia is currently experiencing it will still be possible to increase the Georgian budget in 2009. The Government says that increasing the budget is possible through the growth of non-tax income in the state budget. "In stable political conditions the country will be able to overcome its existing economic difficulties," the statement concludes.
Analysts say that while talking about the problems the street protests have caused the Georgian economy the Government should take into account the reason for the protests. Expert in economics Lado Papava has said that the reason the demonstrators took to the streets is the "wrong" actions of the Government. "If street protests harm the economy, first of all the administration representatives must ask themselves what mistakes have been made and why they are not trying to correct them," Papava said.
Fellow analyst and member of the opposition Democratic Movement-United Georgia Nodar Khaduri called the Georgian Prime Minister's statement "yet another PR action." He said experts and politicians have predicted economic problems since December 2009. "It is impossible to have economic growth in this country when all the states around us are facing recession. It is not wise to say that blocking one street has led to a 1.5% GDP decrease. This is not even close to reality," Khaduri told
The Messenger
, adding that "of course the current political background does not affect the economy in a positive way, but the Georgian economy is suffering far deeper problems than street protests."