A bit of Romania in Tbilisi State University
By Etuna Tsotniashvili
Friday, June 5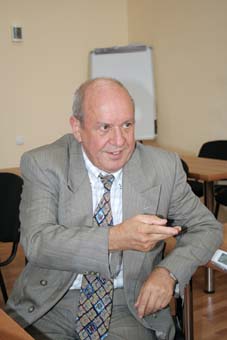 On June 4 the Romanian Auditorium, supported by the Romanian Government, was officially opened at Tbilisi State University. The auditorium was opened by Romanian Ambassador to Georgia Dr. Dan Mihai Barliba, who expressed his satisfaction that through this auditorium Georgian students will become more aware of Romanian culture, life and history.
"My idea was, first of all, to create such an auditorium as a modest act of assistance from Romania to the university, its students and teachers. I often attend discussions and meetings here, and I thought that there should be a stronger Romanian presence in the university. The university had the idea to call this auditorium Romania, and I fully supported this because it creates a permanent, lasting symbol. Students will say, "now I have some exams in the Romanian," which is a very strange thing to hear in Georgia for now but will soon become familiar," the Ambassador told The Messenger.
The Ambassador gave the auditorium about 200 books, CDs, albums, brochures and videos about Romania, adding that the Embassy will always provide them with necessary materials in the future.
The Romanian Ambassador also expressed his wish to hold discussion and question and answer sessions with Georgian students on Romanian-Georgian relations and any theme they are interested in, adding that when they invite him he will be pleased to meet Georgian students at the university. He promised that as soon as Romanian officials visit Georgia he will also ask them to visit this auditorium and hold meetings with students.
"Our task is more or less accomplished in terms of ensuring the repair of this auditorium but we have more things to do in order to make the general Georgian public, students, the younger generation and teachers know more about Romania and its relations with Georgia," highlighted the Ambassador. Romania is very actively discussing in Brussels visa facilitation with non-EU countries, and the Ambassador also stressed that he will fully support visa facilitation for Georgian students who wish to continue studying in Romanian universities.
The lecturers and students thanked the Ambassador for his support and contribution to university life, remarking that Romania and Georgia are friendly countries, so the new Romanian commitment to university life will significantly assist Georgian students' education.