Moscow considers NATO expansion "impossible"
By Temuri Kiguradze
Friday, June 26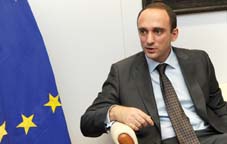 The further expansion of NATO seems impossible today, said Dmitry Rogozin, Russia's envoy to the alliance, as quoted by Russian news agency RIA Novosti on June 25.
"NATO expansion has got bogged down. I am certain that it is impossible to talk about anything happening in [this direction in] the near future," Dmitry Rogozin told journalists in the Kazakh capital of Astana, currently hosting a Euro-Atlantic Partnership Council security forum. Commenting on the partnership between NATO and Central Asian countries, Rogozin compared the alliance with "the admirer who presents flowers to someone else's wife." He also explained that the relations of Russia with Central Asian country Kazakhstan are "family-like." "Even for Ukraine and Georgia this [joining the alliance] is impossible, not to mention other states," he added.
Rogozin also commented on the NATO Partnership for Peace programme, which includes developing relations with NATO partner countries. The envoy considers the programme to be "a kind of waiting room" for countries who want to join the alliance. "Now NATO states have a big problem – they don't know how to use this programme," said the envoy. Georgia is also a participant of Partnership for Peace. The country hosted large scale military exercises backed by the programme last month, despite strong protest from the Kremlin.
Rogozin said that future relations between NATO and Russia "should be as pragmatic as possible, in order to gain from this partnership the maximum benefits for security and sovereignty. Relations should always be developed in this way - make your enemy a neutral state, a neutral state a partner, a partner an ally, and an ally a friend," he concluded.
NATO Secretary General Jaap de Hoop Scheffer, who attended the same forum, stated that he disagreed with Rogozin's statements. "I don't consider NATO to be somebody's lover, we [NATO] have our own political role," stated Scheffer, as quoted by RIA Novosti.
Meanwhile Tbilisi has appointed a new envoy to NATO. Grigol Mgaloblishvili, a former Georgian Prime Minister, has been presented as the candidate for this position by President Mikheil Saakashvili. Parliament has yet to approve his candidatue, but is due to later this week. Speaking about what he would do if appointed Mgaloblishvili noted that "the most important thing is the strengthening of institutional cooperation and the development of such mechanism as the Georgia-NATO Commission." "Annual national plans are being developed and this may effectively coordinate the process [of the integration of Georgia with NATO]," Mgaloblishvili told journalists in Tbilisi.
Georgia's integration with NATO is a common aim of both the Government and the majority of Georgian opposition parties. "It's very important for Georgia to have the support of NATO and the USA," Zurab Noghaideli, the head of the opposition Movement for Fair Georgia told
The Messenger
on June 24. In reference to the same issue Noghaideli also mentioned the importance of the scheduled visit of US Vice President Joe Biden to Georgia. "This [visit] is a clear message to Moscow," he underlined.