World Bank Group unit identifies promising manufacturing sectors
Monday, June 30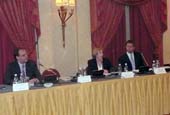 The Investment Climate Advisory Services Unit of the World Bank Group released a new report on June 29 which identifies the four most promising manufacturing sectors for investors in Georgia and provides recommendations for accelerating investment and growth in the country.
The report, entitled "Georgia Manufacturing Sector Competitiveness Assessment," recommends that the Government, donors and other players focus particular attention on viniculture, fruit and vegetable production, construction materials, textiles, pharmaceuticals, and medical devices - areas in which Georgia has certain strong competitive advantages. The report also noted a significant potential for exports and job generation in non-manufacturing sectors, including logistics, tourism, utilities and primary processing industries.
Domestic demand for construction materials, food, and consumer goods in Georgia has boomed in response to investment flows into infrastructure, construction, and retail, but domestic production in these sectors has lagged. To address this issue, the World Bank Group's Investment Climate Advisory Services conducted a basic analysis of the competitiveness of Georgia's agribusiness and manufacturing sectors in order to identify those areas in which the country has the best opportunity to increase its competitiveness and attract investments.
"The survey and its recommendations will greatly assist the Georgian Government, especially the Ministry of Finance, in working effectively to improve the business and legislative environment in its support of these sectors," said Kakha Baindurashvili, Georgia's Minister of Finance. "This is particularly important, since the development and promotion of the sectors outlined in the report will support the creation of new jobs and attract new foreign investments countrywide."
Based on the report's key findings, the World Bank Group detailed six issues that must be addressed in order to enhance Georgia's competitiveness in the above-mentioned sectors. These are improving human capital through education, internal and external promotion, progress towards meeting internationally recognized production standards, increasing collaboration between producers, improving access to finance, and tax administration.
Karin Millett, head of the World Bank Group's Investment Climate Advisory Services office in Vienna, said, "This analysis will help make more people aware of the opportunities that exist and will help donors and business organisations direct their support to the most promising sectors."