We can only wish for you, as our friends, to live in peace Ė Dutch Ambassador
By Messenger Staff
Tuesday, June 30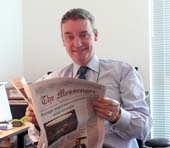 The Messenger interviewed Dutch Ambassador to Georgia HE Onno Elderenbosch on the occasion of him leaving office.
Your assignment here in Georgia has expired. You have been here nearly 4 years, so what do you think is your biggest achievement during your Ambassadorship here in Georgia?
Well it is always very difficult to think of anything as a personal achievement, I have a very good team here. We work very hard but itís mainly in cooperation with the Georgian authorities and people that we have developed our relationships. We have continued to expand our development cooperation programme and our economic ties, and in 2006 we opened the programme to support civil society, and promote the activities of Dutch NGOS here in Georgia, which is important because we think that strengthening civil society is one of the key elements of strengthening democracy.
There is a very active civil society in Georgia and it is one of our policies to strengthen the kind of activities it undertakes. We think that in politics and in any democracy the broad participation of the public is very vital. Politics is not only the business of the few politicians but of a larger consensus of people, and you create this through NGOs, which are very close to the people. I donít know how many NGOs you have here, some of them are very important, some of them still have to be developed, but with this programme we can support either cooperation between Dutch and Georgian NGO or so-called small Embassy projects. We can support these directly with small grants but still it is important to reach out to help smaller NGOs get on their feet or give them financial assistance to organise the activities which are important for their development.
We donít have very strict criteria, we have them on our website. Of course we donít support any illegal activities or anti-Government activities but the project has to be completely transparent. We have this programme in many countries in Eastern Europe, it was launched after the collapse of the Soviet Union in order to help new democracies and new independent countries. It is very successful, last year especially we had a number of very high level visits, there is an enormous interactivity between our two countries. The number of visits undertaken by the Georgian side to the Netherlands and vice versa has increased much more in the last 2 years.
We are also very lucky to have a very active Georgian Embassy in the Netherlands. Maia Panjikidze is doing a great deal to promote Georgia in the Netherlands, and recently she gave a fantastic speech in Amsterdam. She puts Georgia very much on the map. I also think people know about the Netherlands first of all thanks to the First Lady of Georgia, Sandra is very popular in Georgia through her activities and is very well known in the Dutch media. It has been a privilege to have worked here, and the Government and society and also people in the economic sphere are keen to develop these relations with the Netherlands. There is no single person I have met who has said ďI donít like your country.Ē There is a very positive attitude here towards the Netherlands and this is of course very helpful if you want to develop these relations.
You have mentioned NGOs. This is a small country but here we have some non-Governmental organisations which are actually Government organisations. How did you avoid cooperating with such non-Governmental Governmental organisations?
We donít support the NGOs as such, we support activities, projects, programmes, which the NGOs propose for financing, if they fit our criteria than they are eligible for financing. But of course we have a lot of proposals which donít fit our criteria, which are rejected and not financed.
You have mentioned what your Embassy has been doing during your Ambassadorship. Can you quote anything that you feel you could have done and did not do, or which you could not do for some reason?
We have actively tried to promote multi-party democracy through the large programme undertaken here by the Netherlands Institution for Multiparty Democracy, NIMD, which has been in Georgia for 4 years. That programme has maybe not developed to the extent we would like to see.
Can you comment on the state of bilateral relations in culture, sports or tourism?
The exchange is mostly from Georgia to the Netherlands. We know about this because there is a department which hosts very many Georgian folk singing groups, Georgian dancers, Georgian musicians and also sportspersons. We have different Georgian groups and teams in the Netherlands and their number is still increasing even in these difficult economic times. We have two groups going to the Netherlands now. Dato Lortkipanidze has a very active cooperation programme with Dutch museums, he is also working on exchanging exhibitions and we hope that there will be concrete results from these efforts. In opera and ballet Georgian dancers in the Netherlands are performing to a very high level. Georgian dancers are able to dance very difficult Dutch dances, and it was a fantastic experience to see them absolutely match the quality of the Dutch dancers.
I will also mention a large exhibition of Georgian modern artists presently being held in Amsterdam, organized by the Georgian Ambassador in the Netherlands. And of course we should not forget the fellowship programmes in education, there have been about 30 to 40 Georgians going to the Netherlands on such programmes studying different fields, different courses. I am happy to see that this too is increasing, as are the activities of private Dutch organisations who directly finance projects and programmes of culture in Georgia, restorations of archives, restorations of photographs. So there is activity in the private sector and that is very much something I have always encouraged, because the contact between the peoples is more important.
For some time it was said in Georgia that it was very easy to get permanent residence in Holland and many people emigrated, saying they were refugees and had had some problems here because of their views. What is the situation now, do you have many emigrants now from Georgia and how easy it is to obtain Dutch citizenship?
Well as part of the Schengen group we issue visas according to Shengen criteria, which are quite strict. We have about 35 applications every day for a visa, and issue about 5,000 every year which is a substantial number. The refusal rate is around 10-20 percent, which is more or less normal, but of course it happens that people donít come back from the Netherlands. We donít know where they go, sometimes we ask people to report back to the Embassy but that does not help.
However we have a limited number of problematic cases. Of course for the people we know who are businessmen and travel frequently we are more flexible and we can give them a one year or two year visa so they donít have to come back to the Embassy every time, but these are people we really know quite well, otherwise we are quite strict. Iinvitations or hotel reservations are the usual documents for people to show but sometimes there are cases where there is no reservation or the person who is inviting them does not know about it, sometimes they have fake invitations. In that case the application ends with a refusal, but in general problems are quite limited.
There is an increasing Georgian Diaspora in the Netherlands. We have several thousand Georgians who are permanent residents but they are there mostly through marriage or studies, itís all legal.
I noticed, especially in August when we were registering the Dutch people during the war, that many people showed up whom we had not registered here as members of the Dutch community but had Dutch passports. They were actually Georgians who lived in the Netherlands and had come to Georgia to see their families, and when the war broke out they registered at the Embassy so that if there was an evacuation they could go home that way. Then I learned that there were many Georgians with Dutch passports. There were about 200 Dutch passport holders who came to the Embassy in this way, which stands out because the Dutch community here is quite limited, we have about 50 Dutch people who have lived here for years.
Could you tell us anything which you found strange here, as a person from the Netherlands coming to a small and strange country like Georgia?
First of all, this was not my first visit to Georgia, I came here in 1999 when I was in Kiev. I came several times that year but of course I was not living here, I stayed for a week and then went to Armenia and back to Kiev, maybe 6 times in 1999. We still had no Embassy here then, but Irakli Baidashvili was working here as an Honorary Consul and Sandra was working in the consulate, and she always solved my problems. thatís how I got to know Sandra. I have lived in the region for more than 13 years and gained a little bit of experience in Eastern Europe.
Maybe when people come to Eastern Europe there are some surprises, but when I returned here in 2005 the greatest surprise for me was how much the country had changed. In 1999 you had to walk with a torch at night, there was no light in the city. A lot has still to be done but the progress is noticeable if you compare those two eras. Also in terms of mentality, Georgians are now very much looking towards the future, their own and the future of Georgia itself, and they hope that the future will be better for their children. That is very encouraging, because people should look to the future and not look back only.
Is there anything that you would like to convey to the people of Georgia though our newspaper?
I hope that peace will prevail. Living here over the last 4 years it was sad to see how the relations with Russia deteriorated. I hope the relations with Russia will eventually be restored. It was tragic to see what was happening, and we can only wish for you, as our friends, to live in peace and to have better economic prospects, because I am sure that this county has great potential, although peace and stability are of course essential.
The Messenger
thanks His Excellency for his work in Georgia and wishes him every personal and professional success in his new post in Rsussia.