Ex-Interior Minister denies Russian Government links
By Mzia Kupunia
Tuesday, June 30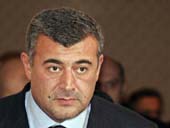 Former Interior Minister of Georgia Kakha Targamadze has denied all allegations that he works with or for Russian special agencies. He also refuted the Georgian Government's suggestions that he was funding, or intending to fund, the opposition rallies.
"I will never take any steps against my country and I have never been involved in any provocation against Georgia," Targamadze said late on June 28 on the talk show Political Week.
Targamadze, who resigned from his post as Interior Minister in 2001 and became a Russian citizen returned to the political spotlight late last week thanks to a YouTube video which allegedly shows him and 'radical' opposition leaders David Gamkrelidze and Levan Gachechiladze meeting in Berlin. The video immediately sparked allegations by Government members that the radical opposition had links with Russian special agencies and were receiving funding from the Russian authorities. "I am not the kind of businessman who might be interesting to the Kremlin, I am not a person who can be used against my country," Targamadze said in response.
Targamadze also added some details to what had previously been known about the Berlin meeting. He said he had warned Levan Gachechiladze about a possible assault on him. Gachechiladze has confirmed receiving information from the former Interior Minister about a "possible provocation" against him, but not given any further details. "The contest is unjust and cruel. We are ready for everything. Targamadze told me that I have to be careful," Gachechiladze told journalists.
Ruling party members insist that the meeting in Berlin was about overthrowing the Government, changing the foreign policy of the country and financing these plans. Speaking at the Parliamentary Bureau meeting on Monday, Vice Speaker of the Georgian Parliament Mikheil Machavariani said his doubts about the aims of the meeting were confirmed while listening to the former Interior Minister's speech on the Political Week show. "The absurd statements about, and reactions to, the release of the Berlin meeting footage have made it clear that the main subject of the meeting was how to overthrow the Government," Machavariani told MPs.
Kakha Targamadze said he does not understand why so much "panic" and "tension" were raised after the meeting in Germany. "However it is clear what lay behind this action. Its aim was to show me as a monster, a killer, a robber and an agent of Russia leading the Russian troops. It also sought to damage the reputation of the opposition politicians connected with me," Targamadze said.
Some Parliamentary minority members have said that the Berlin meeting might be related to setting up a new political organisation Gachechiladze might lead. Levan Vephkhvadze said that 2001 might be repeating itself. "Badri Patarkatsishvili once told me that he had funded the creation of the New Rights and the mediators in this process were Kakha Targamadze and Vano Chkhartishvili. As far as I know the Berlin meeting was related to creating a new organisation and the opposition were consulting Targamadze on this issue," Vephkhvadze noted.
The leader of the New Rights, David Gamkrelidze, has said that he and Levan Gachechiladze did not discuss any new organisation with the former Interior Minister. "We did not talk about this issue at this meeting. I don't think Gachechiladze is planning to start any new political organisation, he is an independent politician, who has refused to join any party," Gamkrelidze told
The Messenger
. The New Rights leader denied Vephkhvadze's claim of links between his party and the late Badri Patarkatsishvili. "I was first introduced to Patarkatsishvili a year after the party was set up, and I had previously met Kakha Targamadze once in Parliament, that's all," Gamkrelidze noted.