Photo Magazine launched
By Mzia Kupunia
Wednesday, July 1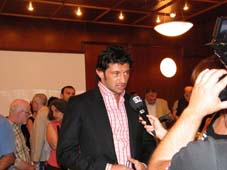 The presentation of the first issue of Photo Magazine was held at Sheraton Metechi Palace Hotel on Monday. The first special issue of the magazine was dedicated to the Georgian-Russian conflict in August, 2008. 132 photos taken by 11 foreign journalists are presented in the magazine, issued by the Tbilisi Photography House and funded by Georgian football player Kakha Kaladze's Kalafund.
The Co-Editor of the magazine, Nestan Nizharadze, said the idea of issuing a compilation of the photos taken during the Russian-Georgian conflict was born during the war. "We decided that as we have so many journalists shooting photos in the conflict zone and therefore so much material, it would be good to get all this material together. We suggested this to the photographers and they agreed with pleasure to give us their photos," Nizharadze said.
Kakha Kaladze, who plays for AC Milan, noted that it is very important to have documentation of what happened last August in Georgia. "The Georgian people went through very difficult times then and I hope this will not repeat in future," Kaladze noted.
Photographer Justina Mielnikiewicz also stressed the importance of having "documented materials" from the August events. "I think this magazine is a document of what happened last August, which is particularly important when photographers from around the world have contributed. I think it is very important to have this photo magazine," Mielnikiewicz said.