British Council and GACC help Georgian and Armenian museum staff develop their professional skills
Wednesday, July 15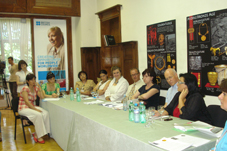 From 13-16 July 2009 a workshop for 20 Georgian and Armenian museum staff and crafts people is being held at the Georgian Arts and Culture Centre (GACC). The focus of this 4-day residency is 'new ways of making cultural industries popular – how we can turn cultural industries into an economically profitable area of activity.' The participants of the residential workshop are discussing the educational value of the museum as an institution and museum activities, including the sale of products at the museum shops.
Two UK experts are sharing their experience and leading the training of 20 museum staff and crafts people from 6 Georgian and Armenian museums. As a result of the workshop, new pieces of craftwork will be created using cultural heritage models. The Georgian participants are the Kutaisi State Museum, Batumi Archaeological Museum, the Museum of Dolls and the Zakaria Paliashvili House Museum in Tbilisi. From Armenia, representatives of the National Gallery of Armenia, the Armenian Museum of History, Erebuni Museum and the Wood Carving Museum are taking part.
Selina Fellows, a leading UK consultant in income generation and marketing in the cultural heritage sector and Timothy Mason, Head of the Arts & Heritage Consultancy and a European Council expert on cultural heritage and museum management issues in the South Caucasus, are the facilitators of the workshop.
The GACC project which this workshop forms part of, called 'Development of Cultural Industries in the South Caucasus Countries: Introduction to the UK Experience in Product Development, Business Management and Marketing,' was the only winner of a Creative Collaborations grant in the South Caucasus, thus becoming a part of a large scale South-East European project known as Creative Collaboration. The project focuses on the cooperation between museums and producers in the area of cultural heritage and traditional crafts. The aim of the project is to exchange creative experience on the one hand and generate income for cultural institutions and producers on the other.
Creative Collaboration is a major British Council arts project that aims to increase the numbers of artists working in collaboration with other countries in South East Europe and the UK. The overall aim of all Creative Collaboration projects is to enrich the cultural life of Europe and its surrounding countries and to build trust and understanding across communities by generating dialogue and debate.