Svaneti – your heart's desire
By Etuna Tsotniashvili
Friday, July 17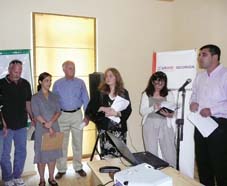 Svaneti greets the new tourist season with new hotels and improved infrastructure. On July 10-13 donor organisations, Government representatives and the media had the pleasure of taking a three-day trip to Svaneti organised by the USAID-supported Small and Medium-sized Enterprise (SME) Support Project and Georgia Employment and Infrastructure Initiative (GEII) in Zemo Svaneti.
As Svaneti has been named by the Department of Tourism and Resorts as a priority destination in terms of local tourism development and an excellent place for a holiday in the ancient part of Georgia, the SME Support Project and GEII launched a programme of rehabilitation work there which aimed to develop Mestia and Ushguli as viable tourism destinations. 8 projects have been carried out, 6 in Mestia and 2 in Ushguli.
Hotel Mestia and Hotel Svaneti are located next to each other in the centre of Mestia. Tourists will enjoy excellent views of the mountains and Svaneti's traditional towers, and definitely Svaneti cuisine, which excited not only foreign guests but Georgians during the trip. The hotels are very comfortably appointed with hot and cold water, bathrooms and toilets. The hotel owners offer 3 meals a day (breakfast, dinner, supper) for a cost per person of between 35 and 70 GEL.
Two cafes have been opened, including an internet cafe, and these are located very near the hotels which makes it easier for tourists to access them. For cycling enthusiasts the bike rental service will come in handy. There is also a petrol station guests can use. A tourist destination which does not sell souvenirs of that place is unimaginable, and a souvenir shop has already started functioning in Mestia where you can buy T-shirts bearing various slogans, mugs, postcards, traditional Svanetian jewellery etc. Next to the souvenir shop is a small business incubator set up in 2006 by the Association Women in Business with the financial support of the SME Support Project. The Incubator employs about 15 local people with more undergoing professional training in different fields. According to Nino Elizbarashvili, head of the Association, the prospective business persons are trained in how to create souvenirs from wood, stone, thick felt and fabric and prepare the traditional Svaneti salt which is completely different from that found elsewhere.
In Ushguli, the Usghuli Guesthouse and Cafe Koshki have been opened by the project support team. The total amount disbursed through the SME Support Project's Zemo Svaneti tourism infrastructure rehabilitation programme is about USD 190, 000.
"What the USAID project and other donors have done will be very helpful in developing tourism in Svaneti. They have opened hotels, cafes and shops which are very necessary to enable tourists feel comfortable here. Svaneti residents have demanded road traffic signs for a long time and these were finally provided by this project," Head of the Svaneti Municipality Gocha Chelidze said at the opening ceremony of Hotel Mestia, highlighting that even when Russia attacked Georgia last August the project did not stop for even a minute and construction works continued with US support. "It was very kind of them and we greatly appreciate their courage," he added.
Chelidze also talked about the road construction works which have already started in Zemo Svaneti. Soon tourists will be able to benefit from new roads to Svaneti, and although travelling there is not always comfortable at present journeys will be easier next year.
"One thing I want to mention is that although our project gave grants for a lot of these activities there weren't just grants. The grantees had to match them with their own money and other things, we just give a little seed money to get things started. People had ideas, but the Government should play its part, it should develop things like roads, infrastructure. However the private sector also has to do things for itself, and we hope that with the money and assistance we've given this will be a great start for Mestia and this whole area. I want to thank everyone who has participated with us, I really appreciate it," Dan Berkshire, the SME Project's Chief of Party, stated.
Petre Kankava, Head of the Tourism and Resorts Department, stated that according to research conducted by the Tourism Department Svaneti is considered one of the most attractive and interesting places for holidaymakers.
"Many foreigners are interested in seeing this part of Georgia. We will do our best to make Svaneti more popular among foreign tourists and we are pretty sure that it will become the main tourist destination in Georgia. We are aware that the construction of roads is underway and this will support tourism development," Kankava said.
Aviva Kutnick, Programme Officer of USAID, expressed her great hope that soon tourism will become a dynamic sector in Georgia. More and more people will become aware of what wonderful places Georgia has, including Svaneti, she said. "More and more people will come to this wonderful region, leading to jobs, economic growth and more opportunities for the entire area. We have already seen new hotels and guest houses, but that is not all, we now have cafes in Ushguli and Mestia, artists creating unique souvenirs for people, an internet cafe and bike rental services, which I hope we will enjoy later today. These are projects of citizen entrepreneurs, dreams brought about by training and technical assistance. This is the real story of USAID assistance, Georgians helping themselves. I believe that one day tourism will become a dynamic sector in Georgia and I'm glad that we can all be here today to celebrate that, thank you," she said.