Svaneti - Europeís roof
By Etuna Tsotniashvili
Friday, July 17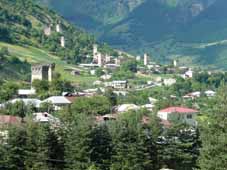 If you really want to feel the Georgian soul, its traditions and history Svaneti is the perfect place in which to do it. On your way to Svaneti you see tremendous mountains which are exciting at any season of the year. Surrounded by 3,000-5,000 metre peaks, Svaneti is the highest inhabited area in Europe and it is famous for its mountain climbing. Shkhara (5,201 metres), Tetnuldi (4,974 metres) and Ushba (4,710 metres) are the most extreme destinations for mountain climbers in Georgia.
Svaneti is a historic province of Georgia, in the north-western part of the country. As soon as you first set foot there and look around you feel you are not in the 21st century but the Middle Ages. It is inhabited by the Svans, a specific Georgian ethnic group.
Svaneti is known for its architectural treasures and picturesque landscapes. The famous Svanetian towers, built mainly in the 9th-12th centuries, add to the charm of the region. There are many Georgian Orthodox churches in this province.
The most attractive place in Svaneti is Ushguli, considered to be highest settlement in Europe as it is located 2,200 metres above sea level. About 70 families live there. They donít leave their houses in the severe winter, when the snow is about 6-7 metres deep.
Svaneti melts in your mouth
Until you decide to visit Svaneti and taste its most delicious food in its authentic surroundings, Svanetian cooks suggest that you try the traditional dishes below:
Kubdaar
Small pieces of sliced beef are mixed with onion, then pounded garlic and dry spices added. Salt and pepper is added to taste. This mass is placed on dough and the top of the dough tied up. This mixture is then flattened carefully and transferred to the oven . The pie is baked in the centre of the oven until golden brown
Tashmujab
Mashed potato is mixed with some water and boiled on a low fire. During the boiling process some cheese is sliced, added to the mass and stirred until the whole becomes kneadable and plastic. Some salt is then added. The dish is ready in 10 minutes