Alasania establishes his own party
By Mzia Kupunia
Friday, July 17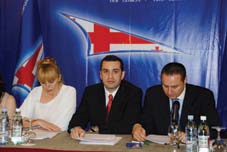 A new political party Our Georgia-Free Democrats, led by Georgia's former UN Ambassador Irakli Alasania, was established on Thursday. Alasania, whose previous informal political team was part of the Alliance for Georgia, which also includes the New Rights and the Republican Party, presented his new party's vision of Georgia's future development.
Speaking at the launch of his party, Alasania said the priority of Our Georgia-Free Democrats will be achieving changes in the election code. "We will focus on changing the electoral environment in Georgia so that it becomes possible to hold fair elections. In order to achieve this, we will take part in every political process and start consultations with other political forces as well, including the Government, in order to carry out the necessary changes in the legislation which will create a fair electoral system. Very soon we will present specific proposals on how to reform our election system," Alasania noted.
The leader of Our Georgia-Free Democrats said his political party is "searching for partners, not enemies" and that "it is necessary to start open and sincere dialogue with the Government in order to achieve the consolidation of society and drag the country out of this complicated political situation." "April 9 and May 26 showed that society is demanding changes," Alasania stated, "however these changes cannot be achieved only through rallies, that's why we are starting to hold issue-based rallies and negotiations," he added.
Alasania said the newly-established party will focus on forming regional structures and preparing for a congress in September. "We will offer society a real conceptual vision of the country's economic development, how to ensure the security of our citizens and how to start restoring our relations with the Abkhazians and Ossetians. We have very specific visions on these issues. Our main tool is dialogue with society and citizens, that's why we have established this party," he stated.
The members of the Alliance for Georgia who attended the presentation stressed that transforming Alasania's political team into a party will strengthen the alliance. The leader of the New Rights, Davit Gamkrelidze, said "a truly democratic and European-style party has been added to the Georgian political spectrum." Fellow New Rights member Pikria Chikhradze noted that her party will continue to have close cooperation with Alasania. "Our cooperation has been very successful and we will continue cooperating with Alasania's party, I even think it is better to cooperate with a party because New Rights, and the Republican Party, are already established political bodies and after the forming of Alasania's new party it will become easier to distribute functions among us. I think this will help make the alliance stronger," Pikria Chikhradze said.
Republican Party leader Davit Usupashvili said he welcomes the establishment of "a very interesting party". "It will further increase the effectiveness of the Alliance for Georgia. We will continue our cooperation as before. Nothing will change in the Alliance from a political point of view," Usupashvili stated.
General Secretary of Our Georgia-Free Democrats Zurab Abashidze told
The Messenger
that the establishment of this political party was a demand from the public. "Many people have expressed a desire to register as members of our team and thus support Alasania. There is only one legal way to do this – to establish a political party. It enables us to accept as members the people who want to stand with us. It would also be impossible to participate in the elections without having a political party. We will prepare for any elections if the legal environment in which those elections are conducted really changes. Then we will be ready to compete with the ruling party in any elections," Abashidze added.
The leaders of Our Georgia-Free Democrats have said that they will present their final concept and detailed strategy by September.