Belarus has made a brave decision - Saakashvili
By Etuna Tsotniashvili
Monday, July 27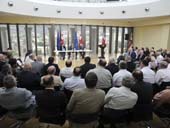 Georgian President Mikheil Saakashvili has welcomed Belarus's warning to its citizens to respect Georgian law in the occupied territories of Abkhazia and South Ossetia and enter them only via Georgia. "This is a very brave and bold decision by Belarus," Saakashvili highlighted.
"The situation has completely changed in the post-Soviet space," the President said at a meeting with ruling party lawmakers on July 24 at his Avlabari residence. "The world has seen several times how Belarus acted at some very important moments…I want to welcome the very brave decision of Belarus to prohibit its citizens from violating Georgian laws and warning them of criminal liability if they enter breakaway South Ossetia and Abkhazia illegally," he stated, adding that Belarus was a pioneer for the world in this direction, and the process of accelerating the reintegration of Belarus into the international community should be conducted speedily.
On July 22 the Ministry of Foreign Affairs of Belarus instructed its citizens to obey Georgian law if they travel to Abkhazia and so-called South Ossetia. Alexander Lukashevich, Deputy Head of the Main Consular Department at the Belarus Ministry of Foreign Affairs, told Interfax that travel to Abkhazia and South Ossetia is limited. It is only possible to enter the breakaway regions from the Gori and Zugdidi districts. Lukashevich explained that persons entering these regions from other districts will be charged under the Law of Georgia.
The Ministry also mentioned that only Russia and Nicaragua have recognised the breakaway regions. The Belarus Parliament has delayed discussion of this issue. President of Belarus Lukashenko has said that a lot of money had been offered him in exchange for recognising the breakaway regions. Russia offered a USD 500 million loan, but Lukashenko stated he would not 'sell' his position.
The Tskhinvali puppet regime has commented on the Belarus Statement. RIA-Novosti reports that de facto Minister of Foreign Affairs Murat Jioev has stated that people can enter South Ossetia only from the Russian borders, as the Georgia-Ossetia border control points aren't operational. He added that South Ossetia is a sovereign country and the law of Georgia doesn't apply there. Georgia's law on occupied territories permits foreign citizens to enter the two breakaway regions only via Georgian territory and considers entry there via Russia as illegal, unless a special permit has been issued by the Georgian authorities.
President Saakashvili has also summed up the recent visit of US Vice President Joe Biden by calling his statements 'historic', saying that the democratic world had finally confirmed its open position on Georgia's freedom, territorial integrity and democratic future. "It has been confirmed that all the attempts of the occupiers to convince the world that Georgia is isolated, disrespected and has no future, that its Government must be changed and there is no democracy and freedom in the country have failed," the President said, adding that after last year's war Russia lost its status as a 'peaceful mediator' but gained the status of an occupier.
Saakashvili said Georgia has managed to demonstrate its problems and set them in an international context, quoting an example from Biden's speech where the Vice President compared Georgia's problem to the Berlin Wall, an issue which was important for the whole world. The President also remembered Biden's meeting with IDP children and acknowledged that he could not disguise his emotions at this meeting.
"I have been watching over those children for a long time and I know very well what they have lost. These are the children whose houses have been burnt down and whose relatives and friends have been killed … I want them to ask themselves a question - which Russian official could have managed to speak to Georgians like Biden did yesterday? Which Russian official could have demonstrated such humanity and such ability to share your concerns as he did?" Saakashvili said.