UNDP helps local governments run their affairs
By Messenger Staff
Wednesday, July 29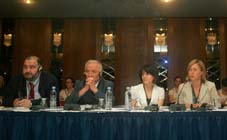 The achievements and challenges of local and regional governance in Georgia, and best practices in this area from in the world, are the focus of a two-day conference which opened on July 28.
The conference has been convened by the United Nations Development Programme (UNDP) with funding from the Swedish International Development Agency (Sida). It has brought together representatives of the Georgian Government, Parliament, the Governor's office and municipalities of the Kvemo Kartli region, international organisations and civil society.
Aiming to examine the status of regional and local governance in the country, establish priorities and share experience among the stakeholders, the conference is discussing a range of issues, such as capacity development of local and regional authorities, municipal development strategies, functional and business process reviews of municipal administration, data management practices and analytical methodologies in strategy and planning. Speaking at the opening of the conference, Sophie Kemkhadze, UNDP Assistant Resident Representative in Georgia, said: "Making municipalities stronger and more effective is an essential part of development. Their work affects everyone's life as they are responsible for delivering basic services to people. UNDP works closely with municipalities in many regions, such as Kvemo Kartli, Adjara, Kakheti and Shida Kartli," she added.
The theory and practice of capacity development of local governance institutions was discussed with a team of experts from the UNDP Regional Office in Bratislava, Slovakia. "UNDP has assisted the Kvemo Kartli municipalities in developing their long-term strategies. It has also actively engaged in the work of the Special Commission for Regional Development. With support from donors and stakeholders, we are now looking to expand this successful experience into other regions of Georgia," said Jambul Bakuradze, Deputy Minister of Regional Development and Infrastructure.
Seven municipalities of the Kvemo Kartli region presented their municipal development strategies at the conference. Prepared with the assistance from UNDP, the strategies cover key development areas and have set up a system of indicators to monitor activities in the coming five-year period.