Putin USD 500 million to Abkhazia
By Temuri Kiguradze
Thursday, August 13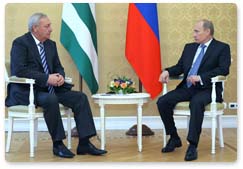 Russian Prime Minister Vladimir Putin paid a visit to the capital of Georgian breakaway region Abkhazia on August 12. He met the de facto Abkhazian President and laid a wreath on the memorial to Abkhaz soldiers killed in the Georgian-Abkhazian conflict in early 90s.
The day before his visit Putin gave an interview to the Abkhazian media and announced that the Kremlin would continue to support the separatist region. He promised to provide 15 billion Russian roubles (USD 500 million) in aid for the "provision of security" for Abkhazia and the enforcement of Russian military bases in the region.
Putin noted that those bases should protect Abkhazia and South Ossetia from a possible "Georgian aggression." "You can't exclude anything with current Georgian Government; however it would be much more difficult for them this time. And if anything can teach them anything, last year's August events should have taught them that it's hopeless to speak with force. Russia will deploy its military forces in the territory of Abkhazia. We will make all efforts to build a modern border defence together with Abkhazian force structures. All this will provide additional guarantees for the security of Abkhazia and South Ossetia," said Putin on August 11.
Georgian officials have already reacted to Putin's visit to breakaway Abkhazia, calling Putin "the main initiator and ideologist" of the August Russian-Georgian war. Tbilisi noted that the visit was conducted on the anniversary of the signing of the six-point ceasefire agreement which ended that war. "Putin's 'visit' to occupied Abkhazia provides further evidence that Russia continues to defy the internationally recognised norms and principles of international law, its own international commitments and reputation as well as the norms of civilized conduct prevailing in international relations. By taking such steps, Russia once again makes it clear that Russia never was, and is not, intending to comply with any of its commitments under the six-point agreement of 12 August 2008. V. Putin's 'visit' to the occupied territory of a sovereign country is yet another provocation carried out in the tradition of Soviet special services, which does not befit the Government of a state claiming a special role in international relations," said the Georgian Foreign Ministry statement published soon after the visit.
The statement also underlined that Putin's Sokhumi visit was "yet another attempt to destabilise the situation and escalate the tension in the Caucasus region" and called on the international community to react to it. "Our Ministry has made its official protest against Putin's visit to Abkhazia," said Georgian Deputy Foreign Minister Alexander Nalbandov, speaking to
The Messenger
on August 12. He also commented on the Russian PM's interview to the Abkhazian journalists. "You notice that the promised sum of 500 million is seven times greater that the sum Russia is going to spend on the economic rehabilitation of Abkhazia. After this announcement it should becomes obvious that Russia needs Abkhazia only for one reason – to create a military polygon, a military springboard in the region. I think this is now clear even for those who once doubted that," stated the Georgian Deputy Foreign Minister.
Russia recognised the 'independence' of Abkhazia and South Ossetia on August 26 2008, after a brief war with Georgia. This action was condemned by the international community and the Georgian Government has declared that Abkhazia and South Ossetia are Russian-occupied Georgian territory.
Putin's trip to Abkhazia was preceded by the visit of Russian President Medvedev to South Ossetia month ago. That visit was described as an "immoral and shameful" act by Georgian President Mikheil Saakashvili.