Republican Party members sentenced to jail
By Mzia Kupunia
Tuesday, August 18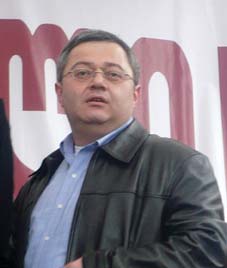 Two opposition activists affiliated with the Republican Party, Tamaz Tlashadze and Davit Gudadze, were sentenced to three and four years in prison on July 16. Both had been initially detained two months ago. Tlashadze was convicted of illegal possession of drugs and Gudadze of illegal possession of weapons.
According to
Radio Free Europe/Radio Liberty
, Judge Ketevan Jachvadze did not consider the evidence presented by the defence. This allegedly showed that Gudadze's fingerprints were not found on the hand grenade allegedly carried by him.
The opposition politicians say Gudadze and Tlashadze were included in the list of 'political prisoners' given to the Ministry of Internal Affairs on August 12 at the meeting between a group of opposition leaders and law enforcement Ministers at which the issue of "politically-motivated" detentions was discussed. The Interior Minister said then that it would "examine" the cases presented and submit a written reply to the opposition leaders in a week. Subsequently MIA spokesman Shota Utiashvili said in an interview that "the MIA denies that there are any political prisoners in the country."
Republican Party leader David Usupashvili has said both his party's activists are "victims of political repression." Usupashvili claimed that the authorities have decided to punish the "most honest" and "authoritative" people in his party, adding that 8 other activists had been detained since the start of the protest rallies in April. Speaking to The Messenger, the Republican Party leader said all the "politically motivated" detentions since April 9 had been conducted the same way. "The suspects are being searched without the presence of any witnesses," Usupashvili stated.
Christian Democrat MP Levan Vephkhvadze, who also attended the meeting in the Interior Ministry last week, said that the imprisonment of the opposition activists had been a "personal" response to his questions about political prisoners. "I raised the issue of Davit Gudadze and Tamaz Tlashadze at the meeting with the Interior Minister. As the court hearing was scheduled for the next couple of days after this meeting I was given a promise that it would either not be held or delayed," Vephkhvadze told journalists. He said most probably the response of the Government to other "political prisoner" cases will be the same.
The imprisoned activitists and their relatives deny the charges brought against them and state that their detention was linked to their political activities. Georgian media has reported that Gudadze's advocate is planning to take his case to the Court of Appeal. The relatives of both activists say they will carry on "fighting" for their release. They held several rallies before the court session demanding that they be freed.
Republican Party leaders say "pressure" from the Government will not influence them. "I would tell the authorities that these repressions are vain attempts to intimidate the Republicans," David Usupashvili said. State officials have not so far made any comment about this case.