Tbilisi protests against Moscow Mayor's visit to Tskhinvali
By Temuri Kiguradze
Tuesday, September 1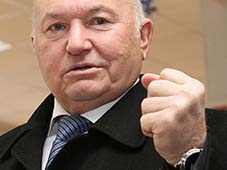 The Georgian Foreign Ministry described the visit of Moscow Mayor Yuri Luzhkov to breakaway South Ossetia as "cynical" on August 31.
Luzhkov visited the separatist Georgian region on Monday and met de facto South Ossetian Government representatives. The official reason for the visit was the opening of a new residential district just outside Tskhinvali named after Moscow. The Moskovskyi district is where the Georgian village of Tamarasheni, burned down by South Ossetian and Russian troops during last August's war, used to be. Its construction was financed by Moscow's municipal authorities, with their own municipal funds, to the tune of 2.5 billion roubles (USD 78.5 million).
"With respect to the opening of the so-called micro-district of 'Moscow' on the site of the now- demolished Georgian village of Tamarasheni, conducting such a ceremony with the Tskhinvali criminal regime is absolutely immoral by any standards. Even the Nazis did not think of building a settlement, and naming it after Berlin, where the villages of Oradour, Katyn or Lidica once stood," the Georgian Foreign Ministry said in a special statement on August 31.
The Ministry also added that it seemed strange that Luzhkov had visited South Ossetia on August 31. "On the basis of the Kremlin's culpable actions against Georgia, it would have been more logical for Luzhkov to visit Tskhinvali on 1 September - the anniversary of the start of World War II. I. Luzhkov and his accomplices should remember the lesson of World War II that no crime will ever go unpunished and they too will have to answer for the ethnic cleansing conducted on the territory of Georgia, the destruction of peaceful cities and villages and offences committed against each peaceful civilian," says Tbilisi.
In Tskhinvali the leader of the South Ossetian separatists Eduard Kokoity thanked the Government of Moscow for building the "wonderful micro-district" and stated that Moscow was one of the first places to provide humanitarian assistance to the breakaway region after the August war. In an interview with the Russian media on Monday, Kokoity also noted that South Ossetia will make efforts to build a country "united with Russia," noting however that didn't mean that South Ossetia will become part of Russia. "I'm talking about close relations based on the example of European Union," stated Kokoity.
Tbilisi has already commented this statement. Georgian Deputy Foreign Minister Davit Jalagania noted that Kokoity gave this statement as a balm to his Russian patrons, "But his words are so confused that we do not think we should make comments on such statements and respond to his delirium every time." The Deputy Minister had also previously commented on the intention of the Moscow Mayor to visit the Tskhinvali region. "This is a step characteristic of Russian foreign policy, and as usual contradicts international norms. The fact that the Moscow Mayor plans to open a district called Moscow in Tskhinvali is an expression of Russian cynicism," Jalagania said.