Venezuela recognises the de facto Republics
By Mzia Kupunia
Friday, September 11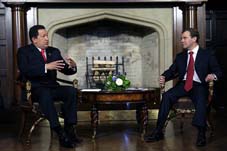 Venezuela has recognised Georgia's breakaway regions of Abkhazia and South Ossetia as independent states, following the lead of Russia and Nicaragua which did the same last year. Venezuelan President Hugo Chavez, who is visiting Moscow, said on September 10 that he would consider the two breakaway regions as independent "from today".
Russian President Dmitry Medvedev hailed Chavez's decision, saying that he had made "several important statements." "We have always considered that recognition is the sovereign right of every state, however we are not indifferent to the fate of these two states and I would like to thank you for the decision you have made," Russian media outlets quoted Medvedev as saying.
The separatist authorities thanked Chavez and expressed a willingness to start "tight political and economic cooperation" with Venezuela. "I thank the President of Venezuela in the name of the Abkhazian and South Ossetian people for recognising the independence of Abkhazia and South Ossetia," de facto Abkhazian leader Sergey Baghapsh said on Wednesday. The de facto Minister of Foreign Affairs of Abkhazia Sergey Shamba expressed hope that other states will also follow Venezuela's example. "We have always been looking to Venezuela and some other states of Latin America with great hope. Now an Abkhazian delegation is in Caracas. Previously it has been to Cuba and Nicaragua, where it was met warmly. We have been waiting for this [recognition by Venezuela]," Shamba stated, adding that Cuba and Bolivia might be the next states to recognise the de facto republics.
Separatist South Ossetian officials have said that their "state" deserves to be "recognised by the international community". Some of the de facto Government members, including de facto Vice Premier of South Ossetia Eleonora Bedoeva, have said that not only Latin American countries but also Europe and the US will recognise the independence of South Ossetia "in the near future".
Georgia has condemned the "unfriendly" action of Venezuela. A statement by Georgian Foreign Ministry says that "this violation of international norms and principles by Venezuela will be counterproductive for Venezuela itself." "It is extremely regrettable that by taking this decision the Venezuelan dictator legitimises the ethnic cleansing which has taken place in Abkhazia and the Tskhinvali region," the statement, posted on the Georgian Foreign Ministry website, reads. It also says that Chavez's decision will not affect Georgia's international juridical status, its sovereignty or its territorial integrity within its internationally recognised borders. "The Ministry of Foreign Affairs is convinced that this recognition, bought by Russia with weapons and money, does not have anything to do with the Venezuelan people," the statement reads. "It is obvious to everyone that the decision to recognise Abkhazia and the Tskhinvali region was made by the Venezuelan dictator in return for the several million in loans and large amount of weapons promised by the Russian Government," it continues.
Georgian State Minister for Reintegration Temur Iakobashvili called the leader of Venezuela an "outcast". "Such steps coming from such strange leaders as Hugo Chavez indicate that Georgia is right, that these states, the so-called Abkhazia and South Ossetia, don't exist," Iakobashvili said "I think that in this case there are more arguments on the side of our supporters, and they are challenged only by the camp of outcasts, because we know what kind of politician Chavez is and what kind of policy he pursues," he added.
Some Russian analysts have said Chavez's decision might become a "signal" for other states to "recognise two young republics". The head of the Caucasian Department of the Institute for CIS States, Mikhail Alexandrov, has told the
Osinform
news agency that "after Venezuela, many other states will recognise the independence of Abkhazia and South Ossetia." Georgian experts however suggest that the desire to recognise Georgia's breakaway regions will not spread further. "This recognition has only a symbolic character and does not change the real situation of Abkhazia and South Ossetia," political analyst Giorgi Khutsishvili told
The Messenger
. "Even Belarus has refrained from recognising their independence, because it prefers not to spoil its relations with the European Union," he stated.
Khutsishvili said that Georgia needs to take "more active steps" to restore relations with the Abkhaz and Ossetian people. "Time is against us," the analyst noted. "There is a need to rebuild bridges with these people, particularly as the ordinary people of Abkhazia and South Ossetia are not against this," Khutsishvili added.