Georgia takes regional lead in battling breast and cervical cancer
By Messenger Staff
Friday, September 11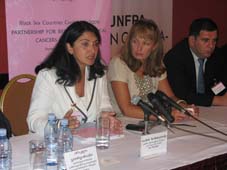 From September 10-11, 2009 the Black Sea Countries Conference 2009: Partnership for Breast and Cervical Cancer Prevention is being held at the Intourist Palace Hotel, Batumi, Georgia.
The main purpose of the conference is to present the results of reproductive tract cancer prevention and screening programmes in countries of the region, share experiences and build regional partnerships for the prevention and early detection of breast and cervical cancer.
Governmental representatives, key experts, UNFPA office representatives from Georgia, Armenia, Azerbaijan, Bulgaria, Moldova, Romania and Turkey and key institutions from EU countries are participating in the conference. Initiating a Black Sea Coalition for Breast and Cervical Cancer Screening, developing regional partnerships and signing a joint declaration are planned within the framework of the conference.
The UNFPA Georgia office, with co-funding from the Municipality of Tbilisi, has been implementing the Reproductive Tract Cancer Prevention and Early Detection Project since 2006. Based on analyses of data and accumulated experience the project was redesigned at the beginning of 2008, under the patronage of First Lady of Georgia Ms Sandra Elizabeth Roelofs, to focus on breast and cervical cancer screening for the targeted population of Tbilisi. This innovative project is one of the first of its kind in Eastern Europe and Central Asia and aims to increase the detection rate of reproductive system cancers at early stages and raise awareness of reproductive tract cancer screening and prevention in order to reduce the morbidity and early mortality of women resulting from these diseases. In January 2009, at the Cervical Cancer Prevention Summit organised by the European Parliament, the European Cervical Cancer Association and Politicians for Cervical Cancer Prevention, this project was awarded a "Pearl of Wisdom" special award.
Ms. Sandra Elizabeth Roelofs, First Lady of Georgia and Chairperson of the Reproductive Health National Council, said: "Early diagnosis is the most efficient, cost-effective and therefore popular approach in Western countries and has proved to be a success in Georgia as well. Already over 35,000 women have participated in this programme. Our objective is to further expand it and attract new donors from international organisations as well as from the private sector."
Ms. Tamar Khomasuridze, UNFPA Georgia country office head, said: "In January 2009, at the Cervical Cancer Prevention Summit, this project was awarded a "Pearl of Wisdom" special award. We are proud, and pleased to assert, that Georgia is a pioneer and leader in early diagnostics among the Black Sea Countries."
Mr. Rema Gvamichava, Director of the National Screening Centre, said: "Cases of the cancer progressing to its 3rd and 4th stages have decreased from 56% to 18% as a result of our programme. This is a result of early diagnosis, which allows for the early detection of pre-cancer diseases and prevents further implications of the disease. The number of women interested in the programme is increasing considerably, to the extent that we are planning to open a new diagnostic centre in Tbilisi."
Mr. Mamuka Katsarava, Head of the Health, Social Care and Cultural Service at the Tbilisi Municipality, said: "Tbilisi Municipality plans to continue funding this successful programme for the next year to come. In addition, from 2010, the municipal budget will start funding breast cancer surgery and we also plan to expand our work in relation to men's health. A new programme on prostate cancer will be launched with financial support from the Municipality Budget."
The conference has been organised by United Nations Population Fund in Georgia and is being co-hosted by the local authority of the Autonomous Republic of Adjara.