Improving life for tourists in Georgia
By Messenger Staff
Monday, October 5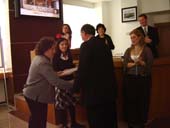 The U.S. Agency for International Development (USAID), together with the Department of Tourism and Resorts of Georgia and the Elkana Bio Farming Association, presented certificates to eleven USAID-supported rural guesthouses that have met rural tourism accommodation standards set by the Department of Tourism and Resorts of Georgia on October 1 at the Tbilisi Tourism Centre.
The Department of Tourism and Resorts adopted the Rural Tourism Accommodation Standards in January 2008 to meet the expectations of tourists coming to the regions through a standardised certification process, to raise the level of services provided at rural guesthouses in Georgia and provide guidance to host families as they upgrade their facilities and services according to the standards. The standards are expected to expand the tourism industry and stimulate economic growth in Georgiaís rural communities.
USAIDís Georgia Employment and Infrastructure Initiative has been working to develop the tourism industry in Adjara, Kakheti and Samtskhe-Javakheti since 2007, including renovating and refurbishing fifteen guesthouses in the regions, in an effort to spur economic development in Georgia. Due to USAIDís financial and technical assistance eleven of the fifteen guesthouses will receive Rural Tourism Accommodation Standard certification. These eleven guesthouses are the first guesthouses in Georgia to meet the accommodation standards.