Ministers help bring the vintage in
By Londa Mindiashvili
Monday, October 5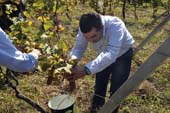 Vintage – 2009 in Georgia's eastern region of Kakheti is coming to an end. Speaker of the Georgian Parliament Davit Bakradze and majority group MPs took part in the winemaking process on October 3, helping locals gather their grapes in the Sagarejo district.
"The main problems about the lines outside the factories that existed in previous years have already been resolved. The grape prices offered by the factories are quite high and they pay straight away. Vintage-2009 is nearly at an end and the harvest is practically gathered so we can say without any hesitation that this year's process has been well-organised and successful," stated Bakradze.
On the same day Bakradze and the MPs visited Giorgitsminda village in the same district and met local peasants who told them their problems. Bakradze and the MPs also saw the rebuilt school in Giorgitsminda.
Various Ministers have taken part in Vintage-2009. They have helped the locals gather grapes and purchased some from their hosts. Bakur Kvezereli, Georgia's Agriculture Minister, his Deputy Ministers and all employees of the Ministry were doing this in Gurjaani region villages on October 1. "Vintage-2009 is going well. One manifestation of this is that our employees have managed to come to Kakheti and participate in the vintage themselves," said Kvezereli.
Georgian Minister of Penitentiary, Probation and Legal Assistance Dimitri Shashkin and the employees of his Ministry also participated in Vintage – 2009 with some of the people serving terms of probation, but on October 3. They helped about 50 families from the Telavi district of Kakheti bring in their grapes. The Ministry plans to buy 100 tonnes of grapes from farmers in the near future. Participation in this kind of work helps to probationers reintegrate in society.
On October 3 The Georgian Water and Power Company organised a corporate grape-gathering to promote Georgian wine. The company management and employees gathered about 3 tonnes of grapes in Aragvi Gorge from an organic vineyard. The ecologically clean wine will be bottled and then distributed as corporate gifts.
The Government has allocated financial resources to help make Vintage-2009 a success. In addition to the sums the farmers receive for their grapes from private and state factories the Government pays an additional 15 tetri per kilo for Rkatsiteli grapes and 25 tetri per kilo for Saperavi.