Russia denies that it wants to negotiate with Georgia
By Messenger Staff
Wednesday, October 21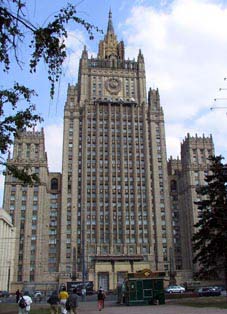 Moscow has not sent "any signals" about starting negotiations with Tbilisi, The Kremlin has stated, denying assertions made by Georgian Foreign Minister Grigol Vashadze on October 16.
"There are some signals that they [the Russian authorities] want to start negotiating with us, but they want to do this just in order to then run to Brussels or Washington and say: we are already having direct talks with them [Georgians], it is not a problem any more, forget about it," Vashadze told the Georgian media last Friday.
"In fact the signals were not coming from us but Mr. Vashadze, who passed them through respectable West European officials," a Russian Foreign Ministry official told the Russian RIA-Novosti news agency on Tuesday. "It seems Vashadze's superiors learnt about his attempts to send signals to Moscow and he is now doing his best to vindicate himself, saying that direct talks with Moscow would equal treason. He is probably concerned about his career and thus turning everything upside down," stated the Russian official.
On October 16 Vashadze had noted that "No matter who comes into power in Georgia" no one will start talks with Russia until the occupying forces leave the Georgian separatist regions of Abkhazia and South Ossetia. "Let them start direct talks with Moscow now, those who have treason in mind," the Georgian Foreign Minister said. "I will immediately resign if someone does this."
Vashadze's October 16 statement also accused Kremlin officials of attempting to make the international community accept the Russian "new reality" created after its recognition of the Georgian breakaway regions as 'independent states'. "Russia's plan at this stage is to change the legal status of Georgian's occupied regions. Together with the international community we should explain to Russia that it will not succeed."
The Russian Foreign Ministry spokesperson noted that Russia had given up attempts to negotiate over the status of Abkhazia and South Ossetia as it was satisfied with the current situation in those regions now they are 'independent.'. Tbilisi has declared these territories to be occupied by Russian troops.