Media Club nominates candidates for GPB Board
By Mzia Kupunia
Wednesday, October 21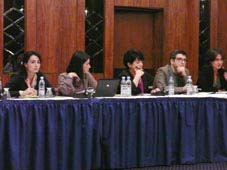 The Media Club, a group of Georgian journalists, nominated its candidates for the Georgian Public Broadcaster's Board of Trustees on Monday. The 7 candidates chosen include journalists Nino Danelia and Shorena Shaverdashvili, lawyers Tamar Gurchiani and Tamar Kordzaia from the Georgian Young Lawyers' Association (GYLA), Tamar Karosanidze of Transparency International Georgia and sociologist Iago Kachkachisvhili.
Media Club members say that the vacant seats on the GPB Board should be filled by representatives of civil society, not political groups. Ninia Kakabadze, a journalist and club member, appealed to the political organisations not to propose their own candidates. "These candidates afterwards become [primarily] accountable to these political forces," Kakabadze said. "The opposition should not act like the Government," Tamar Khidasheli, the Chairperson of GYLA said, adding that the Law on Broadcasting states that the Public Broadcaster should be free of any political influence. Khidasheli said that this law is ignored by the Government. "We will support any representative of the civil sector who decides to apply. Our aim is to remove political parties from this process," Shorena Shaverdashvili said
"If we join the Board we will not only tell the public what is going on at GPB but defend the journalists working at this channel," media researcher Nino Danelia said. "At a certain level we will be the guarantors that the channel will become objective," the Rezonansi newspaper quoted Danelia as saying.
The Georgian Parliament has voted to increase the number of GPB Board members from the current 8 to 15. The Parliamentary opposition have said they will present candidates but no party has nominated anyone so far.
Some opposition MPs agree with Media Club members that it is necessary to include civil society representatives in the Georgian Public Broadcaster Board. Movement for Fair Georgia MP Petre Mamradze has said that his party will support only civil society candidates. "I don't exclude supporting a candidate proposed by the Parliamentary opposition, but only if he does not belong to any political party," Mamradze told
The Messenger
. "A member of the GPB Board should have good knowledge of, and experience in, the TV field," he said.
As for the claims of some analysts that under the current legislation, which limits the Board's capacity to establish programme priorities, the entry of civil society representatives to the GPB board will bring no significant change, Mamradze said that he agrees that under current legislation the new members will be "oppressed". However, the MP said "despite this, there is sense in having society members on the Board. The function of civil society is to be active and speak up when there is a problem," Mamradze noted.