Ombudsman releases human rights report
By Mzia Kupunia
Friday, October 30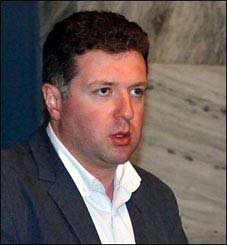 The Georgian Public Defender's office has released its report for the first half of year 2009. The 340-page document outlines the human rights situation in Georgia from January 1 to May 31, 2009. The report says the first half of the year was marked by a tense political situation and much protest activity.
The report outlines the violations recorded by Ombudsman's Office monitoring groups during the 4-month long protests in the centre of Tbilisi. "We recorded number of violations by both the law enforcers and the rally participants," the report says "The law enforcers used rubber bullets to disperse the protestors in front of Tbilisi Police Department on May 6. The use of this weapon was banned under Georgian legislation at that time. At the same time there were many reports from demonstrators of physical assaults on them. The demonstrators linked these attacks to their political activities," it continues.
The report notes that the situation of Georgian media has worsened in 2009. "The demonstrations started on April 9, 2009 and later a problem with the security of journalists covering the rallies emerged. The problem of law enforcers hindering journalists' work also remains unresolved," the report reads.
Public Defender's Office staff and media representatives recorded a number of cases in which journalists were disturbed and assaulted by both law enforcers and demonstrators whilst performing their professional duties, the report says. The document outlines instances of excessive use of force by the police, as well as the cases of torture being used when arrests were made and in preliminary detention. "This is a systemic problem," the report notes.
The report continues by discussing the situation in the penitentiary system. "We should cite the overcrowding of prisons as the main problem, this being caused by the large number of prisoners and insufficient infrastructure for dealing with them. In some prisons conditions are unbearable because of the overcrowded cells. We can regard this as inhumane treatment of the prisoners in some respects," the Ombudsman states. The report suggests that the problem can be resolved by building new prisons and restoring the old ones.
The living conditions of IDPs and refugees remain dire, the Ombudsman's report says. "We have asked the Government a number of times to take some effective steps to ease their conditions. It should be noted that the State has done some work in this direction, however there is still a long way to go."
The general situation in Georgia in terms of human rights was bad, the report concludes. "Violations of civil, political, economic and social rights were recorded. We hope that in future the Government will take effective steps to eliminate these violations and their results, a necessary precondition for establishing a democratic state," it says.
The report was drawn up during previous Ombudsman Sozar Subari's term of office, however new Public Defender Giorgi Tughushi will present it to Parliament.