Russian Army in North Caucasus will quadruple in size
By Temuri Kiguradze
Friday, October 30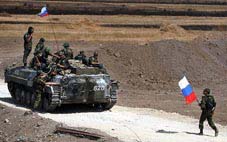 Russia will increase its military presence in the North Caucasus in 400% by 2010, the Russia media stated on October 29.
According to the
Nezavisimaya Gazeta
, the Russian military command has already relocated some troops and continues to accumulate other units at the southern borders of the country. The unstable situation in the Russian North Caucasus regions and the possible threat from Georgia are quoted as the reasons for this militarisation.
The newspaper states that the military command has already created an additional motorised rifle mountain brigade in Chechnya and has fully deployed the 474th military vehicle battalion in the region. However these changes are not considered sufficient in the Kremlin. The 58th Army, which participated in the Russian-Georgian August war, is likely to be reformed in the near future. "The new military headquarters is being formed on the basis of the presence of the 58th Army, which is currently deployed in Vladikavkaz (capital of Russian North Ossetia). Instead of its [current] two divisions, it will have seven mechanised infantry divisions and one tank brigade," states the newspaper's source in the North Caucasian military HQ.
The newspaper also notes the increase of air force activity in the Caucasus region. "Air division headquarters in the North Caucasus will be transformed into full scale airbases housing not less than five squadrons each. Those units will be equipped with most of the new planes and choppers that the [Russian] Defence Ministry plans to purchase in 2010," writes the newspaper.
According to the same source in the North Caucasian headquarters, it is possible that the North Caucasus will have a division armed with ballistic "Iskander" missiles. Earlier Russian officials had announced that its units will have new 13 Iskander missiles in 2010; however Russian Deputy Defence Minister General Vladimir Popovkin, who reported this, didn't specify where they would be deployed. The Russian media is sure that those "Iskanders" are going to be placed at the southern border.
Georgian officials have announced that they are aware of the information spread by the Russian media. "We are checking these messages, and as soon as we find out more we will comment on them," stated Georgian Deputy Foreign Minister Alexander Nalbandov, speaking to
The Messenger
on October 29. However Nalbandov noted that it's "not a surprise" that Russia is increasing its military potential in the Caucasus. "Considering the catastrophic situation in Russia's Northern Caucasus regions, it's quite clear why Russia may need to have additional weapons. There is an undeclared war underway in Dagestan and Ingushetia," stated Nalbandov. He refused to make further comment on the issue however "until this information is confirmed".