Saakashvili talks to Biden
By Temuri Kiguradze
Friday, November 20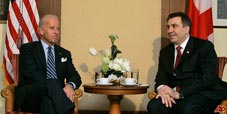 Georgian President Mikheil Saakashvili is reported to have discussed Georgia-US relations and other issues with American Vice President Joe Biden on November 18.
"The sides discussed existing bilateral relations and prospects for their further deepening as well as ongoing cooperation within the framework of the US-Georgia Strategic Charter. The conversation also centered on the situation on Georgia's occupied territories," stated the Georgian Foreign Ministry.
Tbilisi also noted that the special attention was paid to the recent developments in the conflict zones, where the South Ossetian de facto authorities are still holding four Georgian teenagers in Tskhinvali prison. "The President of Georgia directed the US Vice President's attention to the increasing number of kidnappings of peaceful civilians in the areas adjacent to the occupation line, with special emphasis on the fate of the four Georgian minors kidnapped in the village of Tirdznisi and still being held captive. The President of Georgia urged the US side to draw on its reputation and consolidate efforts for the immediate and unconditional release of the detained minors," Tbilisi says.
Meanwhile South Ossetian representatives have stated their will to exchange the detained underage Georgians for five South Ossetian residents allegedly imprisoned by the Georgian side in the Gori district. Tskhinvali refuses to continue dialogue with Georgian representatives in the format of the Incident Prevention Mechanism until this issue is resolved. Tbilisi in its turn denies all the South Ossetian accusations and says that the Georgian police have not detained any of the South Ossetian residents named.
"We are ready to show all the jails in Gori to representatives of the International Red Cross in order to prove that the missing South Ossetians are not being held in Gori," stated head of the Shida Kartli regional police Vladimir Jugeli on November 19. "The mentioned missing persons have not even appeared on the territory controlled by us [Georgian law enforcers]. Despite the fact that we have investigated the whereabouts of these missing persons we have been unable to locate them," added Jugeli.