Budget approved by the majority only
By Gvantsa Gabekhadze
Monday, December 7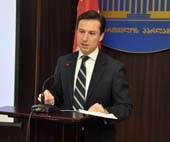 On December 4 the Georgian Parliament approved the 2010 state budget, which sets revenues at GEL 5.171 billion (GEL 6.46 billion in 2009) and expenditures at GEL 5.459 billion (GEL 6.95 billion in 2009). At the Parliament session on December 4 Finance Minister Kakha Baindurashvili described the budget, the draft of which was revised several times before being passed, as realistic. He said that GDP (Gross Domestic Product) was expected to increase by 2% next year, to GEL 19 billion. He also said that the country's economy had contracted 4% in 2009. Projected inflation for 2010 is set at 6%. "Healthcare, education and road infrastructure construction will also receive increased funding," Baindurashvili said.
The breakdown of budget funding per Ministry is as follows:
Ministry of Labour, Healthcare and Social Protection – GEL 1.592 billion (GEL 1.534 billion in 2009); Defence Ministry – GEL 750 million (GEL 897 million in 2009; GEL 1.547 billion in 2008); Interior Ministry – GEL 548 million (GEL 568 million in 2009; GEL 739 million in 2008); Finance Ministry – GEL 301 million; Economy Ministry – GEL 23.8 million; Ministry of Regional Development and Infrastructure – GEL 814.8 million (GEL 869 million in 2009); Energy Ministry – GEL 17.8 million (GEL 57 million in 2009); Justice Ministry – GEL 45 million (GEL 64 million in 2009); Ministry for Penitentiary and Probation – GEL 113.4 million (GEL 119 million in 2009); Foreign Ministry – GEL 66.4 million; Ministry of Education and Science – GEL 557.6 million (GEL 519 million in 2009); Ministry of Culture, Monument Protection and Sport - GEL 81.5 million (GEL 86 million in 2009); Ministry of Agriculture – GEL 53.3 million; Ministry of Environment Protection - GEL 28.5 million (GEL 41 million in 2009); Ministry of Refugees and Accommodation – GEL 27.8 million (GEL 62.9 million in 2009); Office of the State Minister for Reintegration Issues – GEL 1 million (GEL 1.3 million in 2009); Office of the State Minister for Integration into European and Euro-Atlantic Structures – GEL 1.151 million (GEL 1.130 million in 2009); Office of the State Minister for Diaspora Issues – GEL 762 thousand (GEL 906 thousand in 2009).
In 2010 the President's and Government's reserve funds will receive GEL 25 million each (instead of the GEL 50 million each received in 2009). The funding of the President's administration will be increased to GEL 16.9 million but the Government's administration's will be reduced to GEL 7.5 million. The Georgian Parliament will receive GEL 40 million in 2010. GEL 708 million will be allocated for the development of road infrastructure. In 2010 South Ossetia's Provisional Administration, led by Dimitri Sanakoev, will receive GEL 8.8 million instead of the GEL 5 million envisaged in the initial draft of the budget. The Finance Minister said that in 2010 GEL 829 million will be allocated to local authorities, that is GEL 264.8 million more than in 2009. Because of planned local elections in May 2010, funding of the Central Election Commission will increase to GEL 37.2 million. GEL 6.3 million of this is envisaged for the funding of political parties. The 2010 state budget allocates GEL 1.9 million for the Public Defender's Office (GEL 2 million in 2009). The Georgian Public Broadcaster will receive GEL 22 million next year, instead of GEL 25.5 million in 2009. The Georgian Orthodox Church will receive GEL 25.3 million next year, against GEL 25 million in 2009.
The Parliamentary minority did not support the budget. The Christian Democrats held a special press conference about it on December 4. Its leader Giorgi Targamadze stated that the budget does not contain measures for stimulating small and medium-sized business. "Some of our demands have been taken into consideration, like the state programme of support for heart surgery and village assistance, but the future budget does not stimulate small and medium-sized businesses, which will be the shortest way to defeat unemployment and the economic crisis. I also cannot understand why the Government refuses to give a decent pension to retired law enforcers and war veterans," Targamadze suggested.
Opposition MPs also questioned the authors of the budget about the areas in which the Government is saving money. Christian Democrat MP Levan Vephkhvadze asked the majority group where the Government has tightened its belt and where it has saved funds. He said that Parliament was cutting its funds by 2,456,000 and it must be clarified to the public where the Government was saving. Leader of the Georgian Troupe Jondi Baghaturia said that the saved funds should be spent on specific programmes and not on fireworks. "We should allocate the saved funds for specific programmes, so that MPs do not need to "beg money" for various programmes from different offices," Baghaturia said. Majority Vice Speaker Mikheil Machavariani responded that Parliament was reducing its administration and capital funds. He said that the previous version of the state budget had included money for Parliament chamber reconstruction, but plans had been changed and the reconstruction delayed.
Minority MPs also complained that the budget did not include the pledge by President Saakashvili to increase the monthly pension to USD 100. Ruling party lawmakers responded that it had not been possible to deliver this due to last year's August war, the global economic crisis and the opposition's street rallies in spring, 2009, which had significantly damaged the Georgian economy.
Analyst Nodar Khaduri has told The Messenger that some reduction in the state budget had been inevitable. "The state budget is quite normally formulated. The reduction of funds for some Ministries was an inevitable process because of the world crisis and the decline of the Georgian economy. This is absolutely acceptable. Some Ministries' financing increased last year so a reduction of funds will not have a negative impact on them," stated Khaduri. The analyst made no comment on the Christian Democrats' non-acceptance of the draft budget, stating that he needs further information on this.