Saakashvili says new project will remove unemployment from Georgia
By Etuna Tsotniashvili
Thursday, December 10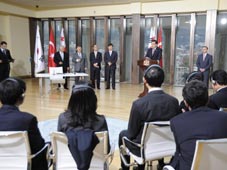 A memorandum of understanding between the Georgian Government and a Korean-Turkish consortium was signed at the President's Palace on December 8, which stipulates that a Turkish-Korean consortium will construct a hydroelectric power station in Namakhvani (Tsageri District, Western Georgia). The Georgian Ministry of Energy stated that construction will start in 2011 and the station will produce a combined 450 megawatts of electricity.
Under the project, which would cost USD 1 billion, the South Korean state-run Korea Electric Power Corporation (KEPCO) has created a consortium with another South Korean company, SK Engineering & Construction and Turkey's Nurol Energy Generation and Marketing, a daughter company of the Nurol Holding, which will jointly construct the station on the River Rioni.
In his speech prior to the signing ceremony President Saakashvili said that 20,000 people will be employed and a billion USD invested in this project. "This means that another Enguri will be constructed in Georgia. This means twenty thousand employed people in Imereti and Racha. I think that from 2011 we will have a deficit of unemployed people," Saakashvili stated, highlighting that this is the largest project that Georgia has implemented since the country regained its independence. "This project exceeds [in scale] any other project implemented so far in Georgia, including the Baku-Tbilisi-Ceyhan project," Saakashvili stated.
Saakashvili said that another hydroelectric station will also be built in the near future in Paravani. "From 2011 a grand investment project will be realised in Georgia. Besides employing people it will give Georgia a source of exports by providing permanent electricity…This is a very important event for the Georgian economy and is the start of a new partnership," the President stated.